This long essay on Subhash Chandra Bose in English is suitable for students of classes 5, 6, 7, 8, 9 and 10, 11, 12, and also for competitive exam aspirants. CBSE Digital Education provides complete information about Subhash Chandra Bose. Let's start the introduction of the essay on Subhash Chandra Bose:
Essay on Subhash Chandra Bose 1000+ Words
Introduction
Subhash Chandra Bose Essay – Subhash Chandra Bose was one of those patriots who did not believe in the freedom to petition and beg and who had no faith in the empty promises of the British rulers. It can be easily understood that such a man could not find himself quite comfortable in the company of a passive fighter like Mahatma Gandhi.
Waiting endlessly was not part of his nature as he had nurtured his mind on the heroic tales of Maharana Pratap and Shivaji and derived his sustenance from them. Therefore, his mentors were flamboyants like Bal Gangadhar Tilak and Sri Aurobindo Ghosh.
Early Age
Subhash Chandra Bose was born on 23 January 1897 in Cuttack City of Orissa Province. His Father, Janakinath Bose was a successful lawyer whose ancestors were residents of Kedalia village in the Twenty-Four Parganas district of West Bengal. Later, he became the president of the local Municipal Committee.
Education of Subhash Chandra Bose
Subhash Chandra's early education took place in Cuttack. For further education, he took admitted to the Presidency College, Calcutta. His father wanted Bose to become an administrative officer, with the aim of realizing his father's dream, he went to England after doing a BA from Calcutta University and got the fourth position in the Indian Civil Service examination in the year 1920. At that time it was not easy to crack the ICS exam.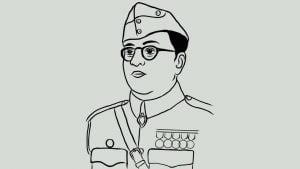 After passing the ICS exam, it was clear for Subhash Chandra to adopt a life of luxury and comfort if he so desired. But he was made of different ingredients. He could never compromise his undying love for his motherland, on whose altar he was ready to lay down anything. He willingly chose the path of thorns instead of a bed of roses to serve his beloved motherland.
Political Career of Subhash Chandra Bose
Even after achieving this important achievement, he did not accept working under the British. So he refused to do this job and jumped into the freedom struggle of the country. When he returned from England in 1921, the non-cooperation movement was in full swing, he met C.R. Das, who had his own way of carrying forward the freedom movement through the promotion of education. In this context, some of the tasks performed by C.R. Das and the young man were carried out with the utmost care.
Being a revolutionary, he could not resist the temptation to seize the opportunity to oppose the brutal British rulers and he found the opportunity to lead a demonstration against the visit of the Prince of Wales to India. The British government considered Subhash a threat to his royal design in India and arrested him.
He was sent to jail where he spent six months behind bars. But as a true patriot, he remained undaunted of all such persecutive and oppressive measures adopted by the brutal Britishers.
In 1924, when Deshbandhu became the Mayor of Calcutta, he made Subhash Chandra the Chief Executive Officer. Frightened by his freedom-oriented programs and activities, the government arrested him again in the same year and sent him to jail, but they could not keep him imprisoned for long and he was released on 15 May 1927.
After his release, he was appointed in 1928 as the Chief Executive Officer of the Calcutta Corporation. At that time, C.R. Das was the Mayor. But he was again arrested for his inflammatory, highly patriotic speeches in 1931. By this time, he had become a strong leader of the country, and his fame had crossed the country's border and reached countries like Germany, America, Japan, and Soviet Russia.
Contribution of Subhash Chandra Bose
Subhas Chandra Bose was associated with the Indian National Congress in his political career. In the Haripura session of the Congress in 1938, he was successful in winning the Presidential election against Pattabhi Sitaramayya, the candidate nominated by Mahatma Gandhi. Gandhiji described the defeat of Pattabhi Sitaramayya as his defeat.
In spite of his success in the Congress presidential election, he could not get the desired cooperation from all concerned and had to give up forming a new organization, Forward Bloc, to fulfill his cherished dream to liberate his motherland.
In view of the growing revolution in Bengal, he was arrested again in 1941 and he was under house arrest and he was put under strict guard, yet he managed to escape from here in disguise.
After escaping from here, they reached Germany via Kabul. At that time the ruling dictator of Germany was Hitler. Hitler respected him greatly and supported his plan to go to South-East Asia. In June 1943, Subhas Chandra left for Japan, from where he again proceeded to Singapore, where, on 4 July of the same year, Ras Behari Bose made him commander of the Azad Hind Fauj.
The ideology of Subhash Chandra Bose
On 21 October 1943, Subhas Chandra Bose announced the provisional government of independent India in Singapore itself. The governments of Japan, Italy, China, Germany, the Philippines, Korea, Manchukuo, and Ireland recognized his government. He later made Rangoon the capital of his provisional government in Burma (Myanmar) and conquered the Andaman and Nicobar Islands and began to run the work of the Azad Hind government in a disciplined and orderly manner.
Expression and Slogan of Subhash Chandra Bose
Some of his slogans and expressions are unforgettable for his countrymen even today, for example, "Delhi Chalo", "Jai Hind", etc. His following words will ever be written in gold letters: "Give me blood and I will give you freedom."
On 6 July 1944, he issued a broadcast from Rangoon radio station in the name of Mahatma Gandhi, in which he addressed Gandhiji as 'Father of the Nation' and sought blessings and best wishes for victory in the war.
According to these developments, Subhash Chandra formed the "Free Indian Army". Then he led the Indian National Army most vigorously, but due to a lack of men and ammunition, he did not achieve real success.
On 6 July 1944, he issued a broadcast from Rangoon radio station in the name of Mahatma Gandhi, in which he addressed Gandhiji as 'Father of the Nation' and sought blessings and best wishes for victory in the war.
Conclusion about Subhash Chandra Bose
After the surrender of Japan to the Allied forces, he flew from Bangkok to Tokyo. Unfortunately, he died during an air crash in 1945 as announced by Tokyo Radio. It was a sad moment, but an unshakable hero as he lived all his life, his tragic death was nothing short of a hero's last moment on earth.
Some believe that Netaji, as he is commonly called, may still be alive, but this seems to be more speculation than fact. us accept him as a great martyr, as he is, indeed, one of the greatest, without a doubt.
In view of the role of Subhash Chandra Bose in the freedom struggle of the country, in January 1992, he was posthumously announced to be honored with the country's highest civilian award 'Bharat Ratna', but due to lack of official confirmation of his death, this award could not be given.
Netaji Subhash Chandra Bose is not physically present among us today, but his immortal message of patriotism still inspires us to sacrifice everything for the country.
Suggested Essay –
I hope you like this article about the essay on Subhash Chandra Bose in English. Comment below for any query related to this article. Share this essay on Subhash Chandra Bose with your friends.