Essay On Rabindranath Tagore For students and Children (500 words)
OUTLINE
Introduction
Education
Contribution
Famous Work
Conclusion
Ravindranath Tagore Essay in English 500+ Words
Introduction
 Essay On Rabindranath Tagore- Rabindranath Tagore is not only the poet of India but also one of the best poets in the world. He belonged to a very respectable family of Bengal. He was born on 7th May 1861 at Jorashanko, Kolkata. He was the youngest of the fourteen children in the Tagore Family. His father's name was Maharishi Debendranath Tagore. His mother's name was Sharada Devi. His father was fond of going to the Himalayas and Tagore must have imbibed a lot of spirituality from him.
Education
Rabindranath Tagore first took admission in the Oriental Seminary School. After Oriental Seminal School, he took admission in a normal school. He received elementary education at 2 schools in Kolkata after which he sailed for England in 1871 for higher education. He joined the University College of London (Britain).
Rabindranath Tagore's family life was not very happy. Tagore was married in 1888 but his wife died in 1902. His father passed away in 1907. These feral events in his life made him religious and emotional.
Rabindra Nath Tagore, though most commonly known as a poet, is a versatile genius. He is many things rolled into one, being all at once a novelist, playwright, musician, painter, educationalist, statesman, actor, freedom fighter, and philosopher, besides being a poet.
Contribution 
Rabindranath Tagore started poems at the age of seven years. He wrote many poems, essays, stories, and novels. He was the editor of several magazines. Tagore's Gitanjali was selected for the Nobel Prize for literature in 1913.
When considered as a poet, though he is sometimes called "The Shelley of Bengal". Ravindranath Tagore is not only an Indian poet but also a World poet of very high stature. Thus, it was no wonder when he got the Nobel Prize in 1913 for his pioneering poetic work the Gitanjali, preface for which was written by W.B. Yeats, the most famous poet of England of the time. This book comprises spiritual and mystic lyrics which are written in poetic prose.
Ravindranath Tagore wrote the lyrics of Gitanjali originally in Bengali and later himself translated them into English. He got the Nobel Prize for the English version. The literary meaning of the word "Gitanjali" is "offering of songs" (to the deity).
Famous Works
Some of his important poems are Sonar, Balaka, Chitra, Tori, Purobi, and Gitanjali. One of his greatest poetical dramas is known as the name of Chitrangada. He also wrote some beautiful short stories, one of the most famous stories for children is the Kabulliwallah.
Some of his important novels are Choker, Bali, Gora, and Ghare Baire. He was also composed our National Anthem, Jana Gana Mana. Purabhi, The cycle of the spring, The evening song, and The morning song, etc. are the other famous works of Rabindranath Tagore.
Born
7 May 1861, at Jorashanko, Kolkata
Died
August 7, 1941
Occupation 

Novelist
Short Story Writer
Grammarian
Musician
Playwright
Essayist
Statesman
Painter
Educationalist
Actor
Freedom Fighter
Philosopher

Award 
Novel Prize in 1913 (in Literature field) for Gitanjali
Important Works

Gitanjali
Bali
Jana Gana Mana
Choker
Ghare Baire
Gora
Kabuliwallah
The Postmaster
Homecoming
Castaway
Sonar
Puravi
Maktadhara
The Morning Song
The Evening Song

Father's Name
Maharishi Debendranath Tagore
Mother's Name
Sharda Devi
Tittle
Sir
Another Name
Guru Dev
Rabindranath Tagore renounced the title of honor awarded by the British to protest against the massacre at the Jaliawala Bagh in 1919.
Rabindranath Tagore was a great lover of India. He raised his voice against the British. He fought the war for freedom through his writings. He was a great educationist also. He founded the Vishwabharati in 1901. It has become a famous university in the world. He wanted to make India home to culture and education.
For Tagore, the great objective of education was "to know the man and to make oneself known to man". Jeevan Smriti is the autobiography of Rabindranath Tagore.
In 1915, Tagore was awarded Knighthood by the British Monarch George V, but he surrendered it in 1919 as a protest against the Jalianwalla Bagh Massacre.
Conclusion
Conclusion Rabindranath Tagore Essay
Ravindranath Tagore was a great lover of his country, of humanity, and children in particular. Tagore believed in non-violence and rejected traditionalism as much as western chauvinism. The Indian National Anthem 'Jana Gana Mana' was written by Ravindranath Tagore.
Ravindra Nath Tagore also set up the Shantiniketan with the money he got from Nobel Prize. He gave up the title of 'Sir' as a protest against the Jalianwala Bagh Tragedy in 1919. India has never produced a great poet like Rabindranath Tagore. Evidently, He was the greatest poet after Kalidas. He died on 7 Aug. 1941.
Short essay on Rabindranath Tagore 300 Words
This short essay about Rabindranath Tagore is beneficial for classes 4, 5, 6 students.
If one wants to discover the confluence of the past and the present, traditionalism and modernity, the orient and the occident in one person, one should turn to Ravindranath Tagore, the greatest man of letters of the modern age.
Ravindranath Tagore was born on 8th May 1861 in Jorasanku in Calcutta (now Kolkata). His father, Maharishi Debendra Nath was a great landlord (Zamindar) and was known as "Thakur", the word which got changed into 'Tagore'. His mother's name was Sharda Devi.
He was the youngest of the fourteen (14th) children in the family of Debendra Nath and Sharda Devi. His father was a saintly person who could not devote much time to him.
The compulsory love of a man was clearly visible in his novels, short stories, and dramas. Tagore was a patriot of the core, but also a universalism and internationalist at heart. He strongly opposed the partition of Bengal in 1905 as all the nationalist ideological leaders of the time were.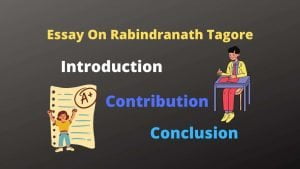 Rabindranath Tagore was one of the greatest persons of India and he was also one of the greatest literary personages of the world. He was a versatile genius, a poet, story writer, novelist, painter, musician, playwright, essayist, actor, painter, philosopher, educationist, and freedom fighter all rolled into one.
Tagore's world-famous work of lyrics, the Gitanjali, for which he won the Nobel Prize in 1913, was also originally written in Bengali but later translated into English by the poet himself.
Among his famous works, besides the Gitanjali, we have Gora, Sonar Tari, The Morning Songs, The Evening Songs, The Wreck, Muktadhara, Puravi, The Postmaster, Kabuliwallah, The Castaway, Homecoming, etc.
Rabindranath Tagore also set up the Shantiniketan with the money he got from the Nobel Prize. He gave up the title of "Sir" as a protest against the Jalliawala Bagh Tragedy in 1919. He was a great lover of his country, of humanity & children in particular. The whole world was plunged into sorrow on his death on August 7, 1941.
10 lines Essay On Rabindranath Tagore
This 10 lines essay on Rabindranath Tagore for Kids (100 Words)
Rabindranath Tagore is one of the best poets in the world.
He was born on 7 May 1861 at Jorasanko in Bengal.
He was a very talented child. He started writing a poem at a very early age.
One of Rabindranath's brothers, Satyendranath Tagore was the first to get selected for the ICS in 1864.
Rabindranath Tagore was also a philosopher, a painter, and a great patriot who composed our National Anthem titled "JANA GANA MANA".
He also was known by his sobriquets – Gurudev, Kaviguru, and Vishwakavi.
He is sometimes referred to as "the Bard of Bengal".
In 1901 Tagore established a school at Shanti Niketan which finally developed into the world-famous University of ViswaBharati in 1921.
Rabindranath was awarded the Nobel Prize for literature in 1913.
He died on August 7, 1941.
Some other important Essay List
I hope you like this essay "essay on Rabindranath Tagore".