Hello Everyone, Welcome To CBSE Digital Education. Today We Are Going To Discuss A Interesting Topic About Fit India Movement Essay in English.
After reading this article about Fit India Movement Essay in English, you will be able to answer all important questions related to it. CBSE Digital Education provides all information regarding the Essay on Fit India Movement in English.
Fit India Movement Essay in English 1000+ Words
This long Fit India Movement Essay is beneficial For School Students, College Students, Competition aspirants, SSC CGL CHSL MTS, and UPSC Exam.
Introduction
Moving towards a healthy future Health is the biggest wealth in human life. If a person is not healthy, then he can neither play a constructive role in the family and society nor can he contribute to nation-building. His life becomes hopeless and frustrated.
Therefore, good health is considered the most precious gem in human life. On the occasion of National Sports Day, Prime Minister Narendra Modi launched the "Fit India Movement" at Indira Gandhi Stadium in New Delhi on August 29, 2019.
PM Modi also urged the people of the country to make fitness a part of their lifestyle. Through this, people have to be made aware of sports and health, so that a clean India, a healthy India, and a strong India can be built
About Fit India Movement
The Fit India Movement is the latest among several other initiatives by Prime Minister Modi to promote fitness and health. A committee consisting of government officials, the Indian Olympic Association (IOA), national sports federations, private bodies, and fitness promoters has been constituted to advise the government on the "Fit India Movement".
Kiren Rijiju is the chairman of this 28-member committee to advise the government on the Fit India Movement. The Fit India Movement will be a 'multi-ministerial effort' involving the Ministry of Sports, Ministry of Human Resource Development (HRD), Panchayati Raj, and Rural Development Ministry.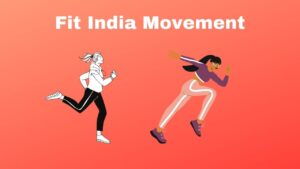 | | |
| --- | --- |
| Movement Name | Fit India Movement |
| Founded | 29 August 2019 |
| Agency Executive | Narendra Modi |
| Parent Agency | Government of India |
| Headquarters | New Delhi |
It aims to bring about behavioral change and introduce basic fitness practices into the daily lives of Indians, most of whom do not have access to sports or fitness infrastructure in their neighborhoods.
The special focus of the Fit India Movement will be on rural India, which lacks basic facilities to improve physical health and create fitness awareness. Under the campaign, awareness programs, sports activities, and other such events are being planned through the participation of celebrities in Tier 1 and Tier 2 cities. It will also be used to promote Yoga in a big way.
What is Fit India Movement?
Fit India Movement is an ambitious campaign of the Government of India, through which people have to be made aware of their health. The Government of India wants to take this campaign forward along the lines of Swachh Bharat Abhiyan, that is, it also wants to make this campaign successful by giving it the form of a mass movement. This campaign will last for about four years. Under this, a campaign will be run every year on different topics regarding fitness. People will be made aware of physical fitness in the first year, eating habits in the second year, eco-friendly lifestyle in the third year, and ways to stay away from diseases in the fourth year.
Objectives of Fit India Movement
The objective of this nationwide campaign is to inspire every Indian to incorporate simple and easy ways to stay healthy in daily life.
Through this, every effort will be made to keep everyone physically and mentally healthy.
The purpose of this campaign is to encourage children and youth towards physical activities and sports.
The Government of India wants to take this campaign forward along the lines of the cleanliness campaign. This campaign is to be implemented under a national goal, for which public participation is essential to make it successful.
Benefits of Physical Activities
People of any profession can make themselves efficient in their profession if they are mentally and physically fit. Fitness is not just a word but an essential pillar for a healthy and prosperous life. Regular physical activity increases life expectancy and reduces the risk of premature death.
It also enhances physical and mental health. Regular exercise increases muscle strength, bone density, and flexibility. As a result, it reduces the risk of osteoporosis and accidental injuries.
Why the need for Fit India Movement?
The data presented in the context of India in various national and international health reports is quite unfavorable, that is to say, there is no seriousness about fitness in India today, which can be very fatal for the development of the country.
According to the Institute for Health Matrix and Evaluation, ischemic heart disease, tuberculosis, neonatal disorders, asthma, diabetes, and chronic kidney disease account for the highest number of deaths in India.
According to the National Health Profile document of the Union Ministry of Health, the rate of non-communicable diseases in the country has increased from 30 to 55% between 1990 and 2016. According to the World Health Organization, the statistics regarding malnutrition in India are still very grim.
Today health awareness has increased at the global level as well. Healthy China Mission 2030 is being run in China. Australia is running a mission to eliminate laziness and increase physical activity for 15% of its citizens by the year 2030. Germany is running the Fit Inspired of Fat campaign. America is campaigning to connect its schools to the Free Fitness campaign by the year 2021.
Benefits of Fit India Movement
There are the following important benefits of the Fit India Movement Essay:
The benefit of the Fit India Movement launched by the government would be that it would create health awareness among the people and take people away from many diseases, on the other hand, there would be savings in the expenditure due to these diseases.
If the health of Indians improves through Fit India Movement, then India's GDP will increase by 1.4%. There will be an increase in productivity and income, as money will be saved by reducing the expenditure on diseases due to improvement in health.
The biggest advantage of this campaign is that the person will be able to use his efficiency properly. It is said that a healthy mind resides in a healthy body and a healthy mind helps in building a healthy nation.
Many diseases are related to lifestyle, which is possible to overcome by some physical activities such as exercise reduces the chances of a heart attack. It reduces the chances of stroke, high blood pressure, diabetes, breast cancer, bone fractures, gallbladder disease, obesity, depression, and anxiety.
Challenges to Fitness
Fitness has always been an integral part of our culture, but technology has given rise to new challenges and now there is indifference to fitness issues.
Technological advances have made life easier, but they have reduced the scope of walking and manual work. Physical fitness culture has suffered and health standards have declined. As a result, lifestyle diseases like diabetes and hypertension are on the rise.
The danger is not just from lifestyle changes but from habits like tobacco use and environmental degradation. Physical activity is a means for the prevention of chronic diseases, for the treatment and rehabilitation of patients, and for building immunity against other types of diseases. The World Health Organization (WHO) has estimated that 30% of cancer incidence can be avoided by lifestyle changes.
Conclusion about Fit India Movement
Fit India is an idea that needs to be implemented properly and scientifically, especially directed toward children, women, and vulnerable groups of people from middle and lower socioeconomic strata. A suitably built environment, which was earlier an integral part of our plan, needs to be brought back. The importance given to sports and fitness is of paramount importance.
Although the benefits of physical fitness are known and clear, India is in a paradoxical situation of increasing challenges attributed to the simultaneous presence of lifestyle diseases and poverty, backwardness, illiteracy, and lack of access to health care. Therefore, the fitness movement should be combined with anti-poverty programs and other social welfare schemes.
Suggested Article –
I hope you like this article about the Fit India Movement Essay for Students and Children. If you want to ask any queries regarding the Fit India Movement Essay, then message us in the comment section, and we will reply to you soon.