Essay on Lal Bahadur Shastri for Student and Children 500+ Words
OUTLINE
Introduction
Early life
Contribution
Conclusion
Long essay on Lal Bahadur Shastri for Students and competitive exam aspirants
This long essay about Lal Bahadur Shastri is suitable for students of classes 7, 8, 9 and 10, 11, 12, and also for competitive exam aspirants. 
Introduction
Lal Bahadur Shastri Essay- Lal Bahadur Shastri was one of the personages in history who makes a permanent mark on the stands of time. He was the second Prime Minister and, indeed, one of the best Indian statesmen by all standards. He could serve as the Prime Minister of India only for a short period, about one and a half years to be precise, but during the period he established himself as one of the greatest and most lovable Prime Minister and leaders of India.
Early Life
Lal Bahadur Shastri was born on 2nd October 1904 at Mughal Sarai in U.P (Uttar Pradesh). It is a coincidence that he was born on the same day on which Mahatma Gandhi, the Father of Nation, was born 35 years before. He belonged to a very humble family, as his father Sharda Prasad was a poor man.
| | |
| --- | --- |
| Lal Bahadur Shastri Birthday | 2 October 1904 |
| Place of Birth  | Mughal Sarai in U.P |
| Lal Bahadur Shastri death | on 11 January 1966 |
| Education | Kashi Vidyapeeth at Varanasi |
| Father's Name | Sharda Prasad |
| Wife | Lalita Devi |
| Slogan | Jai Jawan Jai Kisan |
| Award | Bharat Ratna (Posthumous) in 1966 |
Lal Bahadur Shastri did not belong to an aristocratic family like Pandit Jawaharlal Nehru but he, as Prime Minister, earned undying fame next only to him, if not equal to him in the history of India. His father Sharda Prasad died when he was barely two years old.
Lal Bahadur Shastri joined the Harish Chandra High School at Varanasi where his uncle lived. Even at school, Shastri was known for his intelligence, honesty, hard work, and patriotic feelings, though physically he did not have much of an impressive personality, being short-statured and thin.
Contribution
Lal Bahadur Shastri was only 17 when Mahatma Gandhi started the Non-Cooperation Movement in 1921. Young Lal Bahadur Shastri who was imbibed with the spirit of patriotism, could not lag behind in responding positively. It was the time when even students were expected to give up their studies and join the National Movement for freedom. Accordingly, he gave up his worries for the ensuing examinations and jumped into the movement. He was arrested for participating in the anti-government procession but was let off for his tender age and puny size.
After completing his high school education, He joined the Kashi Vidyapeeth at Varanasi. The institution was situated about 12 kilometers from his house. He had no means of conveyance nor he could afford any. So, he went to the institute daily on foot and returned home the same way. Despite so much difficulty, he was a brilliant student. He passed his examination in Vidyapeeth in the first division.
Lal Bahadur Shastri was married to Lalita Devi when he was 24 years old. He did great social work at the instance of Gandhi under whose influence he had come. He later went to imprisonment several times for offering Satyagraha. He studies a number of authors during his prison time.
When India became independent, he was called upon to serve the country in various capacities. He was made the General Secretary of the congress. As a minister of the Police Department in Uttar Pradesh (UP), he brought several reforms which earned him a name as being a selfless servant of people.
Lal Bahadur Shastri joined as Railways Minister in 1962 in Jawaharlal Nehru's cabinet. But taking moral responsibility for a railway accident, he resigned gracefully.
Conclusion
After Jawaharlal Nehru's death in 1964, Lal Bahadur Shastri became the Prime Minister. He had to fight the 1965 war with Pakistan. The India-Pakistan war of 1965 took a turn beyond Pakistan's expectations despite all the misinformation against India that it tried to spread. It was the time when his greatest real qualities of patriotism, courage, and leadership came to the surface.
Lal Bahadur Shastri won the war and signed the Tashkent Agreement, but unfortunately, he died of a massive heart attack on 11th January 1966 while he was still in Tashkent.
No doubt, Lal Bahadur Shastri was a great man and leader of the masses. Still, greater was his love for democracy and India her people were always uppermost in his heart. He is still remembered for his immortal slogan "Jai Jawan Jai Kisan". He will always be remembered as one of the greatest Indians.
Paragraph on Lal Bahadur Shastri for Children and Kids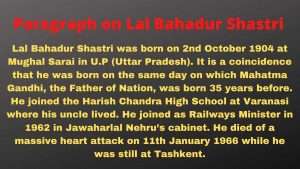 Also Read – 
I hope you like this post about the "Lal Bahadur Shastri Essay". If you want to give any suggestions then comment below. Share this essay with your friends.