Let's start the introduction of the Essay on Jawaharlal Nehru, Read and Enjoy Jawaharlal Nehru Essay for children and Students.
700+ words Essay on Jawaharlal Nehru in English
OUTLINE
Introduction
Jawaharlal Nehru as a Leader
Contribution
Nehru's Death


 
Essay on Jawaharlal Nehru in English for Students and Children 700 Words
Introduction
Essay on Jawaharlal Nehru – Pt. Jawaharlal Nehru is counted among the very famous personalities of India and almost every Indian knows about him very well. He was born on 14 November 1886 in the Kashmir Brahmin family in Allahabad. He lived, worked, and died for his motherland. He was the son of Motilal Nehru and Swarupa Rani. His father Pt. Motilal Nehru was a famous lawyer.  His birthday is celebrated as Children's Day because of his great love and affection for the children of our country. Vijayalakshmi Pandit and Krishna Harthising were the sisters of Jawaharlal Nehru.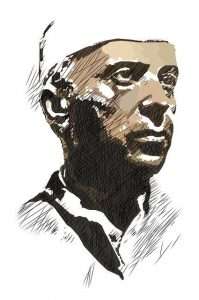 Jawaharlal Nehru became a member of the Theosophical Society at the age of 13. Nehru went to London in 1905 and joined the Haro Public School, then Trinity in Cambridge, and finally at the Inner Temple. He returned to India in 1912 and started practice at Allahabad High Court. Jawaharlal Nehru also wrote a book called Discovery of India, in which, he died with a brief history of India.
Jawaharlal Nehru got married to the Kamala Kaul (Kamala Nehru) in the year 1916 at the age of 27 and became the father of Indira Gandhi. He loved children, so he was fondly called Chacha Nehru by the children. According to Pandit Jawaharlal Nehru, Children are the bright future of the country.
He was a great political leader and he was also a very friendly person. He always used to inspire and motivate children to become patriots and happy citizens of the country and suggest to work hard and bravely, because he considered children as the future of the country. 
Jawaharlal Nehru as a Leader
Jawahar Lal Nehru attended the Bankipore Congress Session in 1912. He met Mahatma Gandhi in 1916 at Lucknow's session. He became the General Secretary of INC in 1923. Pt. Jawaharlal Nehru became the president of INC for the first time in 1929. Poorna Swaraj Resolution was passed at this session in Lahore. He became the President of INC for the largest number of times Lahore (1929), Lucknow (1935), Faizpur(1936), New Delhi (1951), Hyderabad (1953), and Kalyan (1954).
After returning from England with a degree in law, Pt. Nehru started his legal practice in Allahabad High court, but soon he found that the country's freedom struggle needed him more than the legal practice. Under the leadership of Mahatma Gandhi, Pandit Jawaharlal Nehru joined the freedom struggle by participating in the agitation organized by Indian National Congress.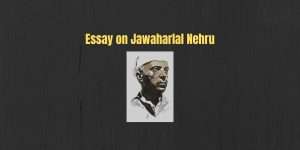 Pandit Jawaharlal Nehru was not only a skilled politician but also an efficient planner and a competent thinker. Several hundred years of foreign rule had weakened the country and, therefore, everything had to be built from scratch. So, he came up with the idea of the Five Years Plan under which there was a blueprint for the government to plan resources in advance.
Contribution 
Nehru's main contribution to the evolution of India's foreign policy was the acceptance of non-alignment. Non-alignment meant taking independent decisions on international issues with a sense of Neutrality. He visited China in 1954, both countries signed the Panch Sheel. Nehru was awarded the Bharat Ratna in 1955. He got placed in the Indian Postal Stamp in 1964.
He said, "I want the cultures of all lands to be brought to my house as freely as possible". The expression "Tryst with destiny" was first used by Jawaharlal Nehru on the Occasion of India attaining freedom.
Nehru's Death – The End of an Era
Pt. Jawaharlal Nehru died of a heart attack on 27 May 1964 at the age of 75. May his soul rest in peace! Nehru is still a constant source of inspiration for the people of India.
People like Pt. Nehru are very rare. Being born in an affluent family, he could have led a comfortable life, but he chose the path of struggle to free his motherland. Throughout his life, he worked for the country and countrymen. All coming generations will get inspired by his life of struggle.
Short essay on Jawaharlal Nehru 200 words for School Students
This short essay on Jawaharlal Nehru (200 words) for class 4, 5, 6, 7 Students
Jawaharlal Nehru was born on the 14th of November, 1889 at Allahabad. Ancestors of Jawaharlal Nehru came from Kashmir and enjoyed the honorific of Pandit, meaning "Man of Letters". His father's name was Motilal Nehru who was a lawyer & national leader.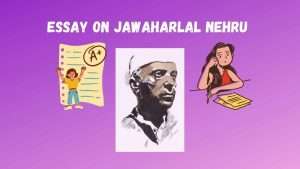 Jawaharlal Nehru loved children very much. He was the "Chacha" for them. For this reason, the 14th of November is observed as Children's Day every year.
Jawaharlal Nehru married Kamala Kaul on 8 February 1916, the day of Basant Panchami. A daughter was born to then on the 19th of November, 1917 who was named Indra, who later became the Prime Minister of India.
Jawaharlal Nehru was a man of letters. He has written many world-famous books which are The Unity of India, Glimpses of the World History, A Bunch of Old Letters, and the Discovery of India.
Father of Jawaharlal Nehru handed over the charge of the Presidentship of the All India Congress Committee to Jawaharlal Nehru in 1929.
When India became free on the 15th of August, 1947, Jawaharlal Nehru became the 1st Prime Minister of India. He also fought a war with Pakistan in 1948 and defeated it, but he couldn't recover a lot of lands occupied by Pakistan.
India lost the war with China in 1962, chiefly due to lack of preparedness, and is considered a chief demerit of Jawaharlal Nehru. He died on 27 May 1964.
10 line Pandit Jawaharlal Nehru Essay in English for kids
In England, the real democracy started when Sir Robert Walpole became the Prime Minister. If Walpole was the first Prime Minister of a great democracy, Jawahar Lal Nehru was the first Prime Minister of one of the greatest democracies of the world.
Pandit Jawaharlal Nehru was born in a rich aristocratic family on 14th November 1889 at Allahabad.
His father Pt. Moti Lal Nehru was an affluent practicing lawyer who also came under the sway of Gandhiji's independence struggle. Even his mother Swaroop Rani took an active part in this struggle.
Jawaharlal Nehru went to England for higher studies where joined the public school at Harrow.
When he became the Prime Minister of India in 1947, he undertook the task of building India and making her a great nation.
He believed in heavy industry and dams for the development of industry and agriculture respectively.
Jawaharlal Nehru was a great writer of English prose apart from being a great author.
His books are the epitome of knowledge conveyed in a simple, impressive non-ornate style.
Pt. Jawaharlal Nehru was an agnostic but a great humanist and had a love for children.
Children still call him "Chacha Nehru" and his birthday is celebrated every year as children's day.
Some Other 700+ Essay
Frequently Asked Question (FAQ)
 I hope you like this post the Essay on Jawaharlal Nehru in English. Press the like button given below and Comment for other topics essay.