Hello, Welcome To CBSE Digital Education. Today We Are Going To Discuss A Interesting Topic About Essay on  Narendra Modi. This long Essay on Narendra Modi is beneficial for School Students of classes 5, 6, 7, 8, 9, 10, 11, Competitive Exam Aspirants, and UPSC Aspirants.
CBSE Digital Education provides all the important information about the Essay on Narendra Modi. After reading this article, you will be able to answer all important questions related to it.
Essay on Narendra Modi in English 1000 Words
Current News About Narendra Modi
Narendra Modi is an Indian politician and the current Prime Minister of India, who became the most popular world leader on Facebook, in April 2020 followed by US President Donald Trump. Ensuring safety and security measures for the Indian people and providing all necessary assistance to other countries, he has been number one among all world leaders in the fight against the Coronavirus (COVID-19) pandemic.
It was the Prime Minister, Narendra Modi who decided to set up a separate Ministry of AYUSH, which is now exporting medicines to several countries in the wake of the pandemic.
Under his strong leadership, Article 370, which gave special status to the erstwhile state of Jammu and Kashmir (J&K), was abolished. World leaders, international agencies, philanthropists, Nobel laureates, and many others have praised Narendra Modi's leadership.
Early Life of Narendra Modi
Essay on Narendra Modi – Narendra Damodardas Modi was born on 17 September 1950 in Vadnagar, a small village in the Mehsana district of Gujarat. He was the third of the six children of Damodardas and Hiraben Moolchand Modi. His father was a tea stall owner and quite often Narendra Modi would accompany his father to work. However, at the age of 17, he made the exceptional decision of leaving home and traveling the country. He traveled to the Himalayas, to West Bengal, and even the northeast.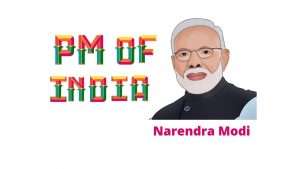 Name
Narendra Damodardas Modi
Born
17 September 1950 in Vadnagar, Gujarat
Parents
Damodardas Mulchand Modi (Father)

Heeraben Modi (Mother)

Spouse
Jashodaben Modi
Political Party
 Bharatiya Janata Party (BJP)
Cast 
OBC
Age
70 Years
Height
170 cm
In 1978, Narendra Modi graduated, and in 1983, he completed his master's degree, in political science. For the outstanding capability displaced, he was given the charge of the Akhil Bharatiya Vidyarthi Parishad (ABVP). Due to his dedication and inclination, he was nominated as the representative of the Bharatiya Janta Party (BJP).
In 2001, Narendra Modi received his huge break as chief minister of Gujarat. Successful with his development Model, Modi became the Chief Minister of Gujarat for 4 successive terms. All three sectors namely agriculture, industries, and services made equal and active contributions towards the growth of the state. Narendra Modi also devoted special attention to the healthcare and education sectors.
Narendra Modi – The Prime Minister of India
In June 2013, Narendra Modi was appointed as the chairman of the National Campaign Committee and was put in front of the 2014 general election campaign. Finally, Narendra Modi received a huge majority in the Lok Sabha elections and was sworn in as the 15th Prime Minister of India.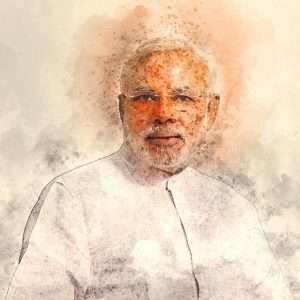 He took oath as the Prime Minister of India on 26th May 2014. For his oath-taking ceremony as Prime Minister, Narendra Modi invited the leaders of SAARC (South Asian Association for Regional Cooperation) countries to strengthen the diplomatic ties and increase business with them.
After becoming the Prime Minister of India, Narendra Modi has embarked on his journey for the all-round development of India. He has rebuilt friendly relations with almost all the countries of the world.
The campaign led by Narendra Modi
Narendra Modi has started many ambitious programs for the development of India, such as Prime Minister Jan Dhan Yojana (PMJDY), Make in India, Swachch Bharat Mission, and Shramev Jayate. Demonetisation of Rs 500 and Rs 1000 notes in his masterstroke to curb the black money and corruption in India.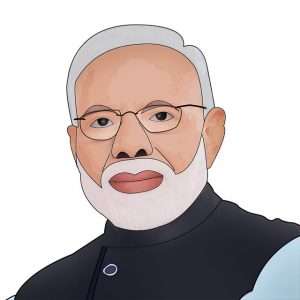 In October 2018, Modiji received the UN's highest environmental award, the Champion of the Earth. Narendra Damodardas Modi received the prestigious Seoul Peace Prize 2018 for his contribution to international cooperation and fostering global economic growth on February 22, 2019. He also received the order of St. Andrew, the highest civilian honor of Russia on 12 April 2019.
He contested the 2019 general election on the theme of "Nationalism and received a massive mandate for his 2nd innings as the Prime Minister of India.
International Awards of Narendra Modi
| | | |
| --- | --- | --- |
| Country | Award Name | Date |
| Saudi Arabia | Order of Abdulaziz AL Saud | 3 April 2016 |
| Afghanistan | State Order of Ghazi Amir Amanullah Khan | 4 June 2016 |
| Palestine | Grand Collar of the State of Palestine Award | 10 February 2018 |
| United Nation | Champions of the Earth | October 2018 |
| United Arab Emirates | Order of Zayed Award | 4 April 2019 |
| Russia | Order of St. Andrew Award | 12 April 2019 |
| Maldives | Order of the Distinguished Rule of Nishan Izzuddin | 8 June 2019 |
His Achievement
The idea of ​​celebrating the International Day of Yoga was proposed by Narendra Modi during his speech in the United Nations General Assembly and with his efforts, the International Day of Yoga is celebrated all over the world on 21st June.
'Aankh Ka Dhanya Che' is a book containing a collection of poems by Modi. Modi's wax statue features at the Madame Tussauds Wax Museum in London. Apart from this, he has been ranked fifth in Fortune magazine's list of the world's greatest leaders in 2015.
Narendra Modi was named among the 30 most influential people on the Internet and was also ranked among the top 10 most powerful people in the world by Forbes. In October 2018, he received the United Nations' highest environmental award, 'Champions of the Earth'. He is the first Indian to win the Seoul Peace Prize in 2018.
Conclusion
India is growing and shining by leaps and bounds under the dynamic leadership of Narendra Modi. India's Prime Minister Narendra Modi brings with him a rich and practical experience as one of India's most successful politicians and one of its finest administrators.
10 Lines on Narendra Modi Essay in English 100 Words
This short essay on Narendra Modi is beneficial for Kids. This 10 lines essay on Narendra Modi is also beneficial for students of classes 1, 2, 3, 4.
Narendra Damodardas Modi is the present and 15th Indian Prime Minister.
He was born on 17th September 1950 in Vadnagar, Gujarat to a lower-middle-class family.
Modi had a keen interest in politics since the early days of his childhood.
Narendra Modi's father's name was Mool Chand Modi and his mother is Hiraben.
He joined BJP (Bharatiya Janta Party) in the year 1987.
Narendra Modi became Chief Minister of Gujarat in October 2001. He governed Gujarat for 13 years.
Due to Narendra Modi's success, fame, and style he got the highest votes and was announced as India's 15th Prime Minister of India. He was the 15th and current Prime Minister of India.
Narendra Modi was again elected as a prime minister in the general elections.
One of the most popular leaders who mostly focuses on the development of India.
Narendra Modi has launched many campaigns such as Make in India, Bet Bachao Bet Padhao, Swachh Bharat Abhiyan, Namami Ganga Project, Atal Pension Yojana, Udan Scheme, Digital India, etc.
Also Read – 
I hope you like this article about the essay Narendra Modi in English for Students and Children. If you want to ask any queries regarding Narendra Modi Essay in English, then message us in the comment section, and we will reply to you soon.