Long essay on Narendra Modi in English for students and Children 500 words
Essay on Narendra Modi 500 Words
Introduction
Essay on Narendra Modi – Narendra Damodardas Modi was born on 17 September 1950 in Vadnagar, a small village in the Mehsana district of Gujarat. He was the third of the six children of Damodardas and Hiraben Moolchand Modi. His father was a tea stall owner and quite often Narendra Modi would accompany his father to work. However, at the age of 17, he made the exceptional decision of leaving home and traveling the country. He travelled to the Himalayas, to West Bengal, and even the north-east.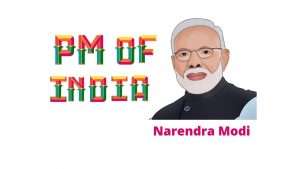 In 1978, Narendra Modi graduated, and in 1983, he completed his master's degree, in political science. For the outstanding capability displaced, he was given the charge of the Akhil Bharatiya Vidyarthi Parishad (ABVP). Due to his dedication and inclination, he was nominated as the representative of the Bharatiya Janta Party (BJP).
In 2001, Narendra Modi received his huge break as chief minister of Gujarat. Successful with his development Model, Modi became the Chief Minister of Gujarat for 4 successive terms. All three sectors namely agriculture, industries, and services made equal and active contributions towards the growth of the state. Narendra Modi also devoted special attention to the healthcare and education sectors.
Narendra Modi – The Prime Minister of India
In June 2013, Narendra Modi was appointed as the chairman of the National Campaign Committee and was put in the front of the 2014 general election campaign. Finally, Narendra Modi received a huge majority in the Lok Sabha elections and sworn in as the 15th Prime Minister of India.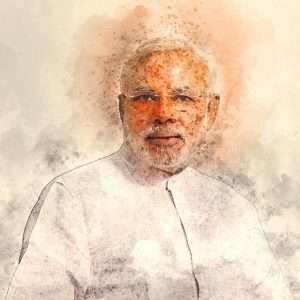 He took oath as the Prime Minister of India on 26th May 2014. For his oath-taking ceremony as Prime Minister, Narendra Modi invited the leaders of SAARC (South Asian Association for Regional Cooperation) countries to strengthen the diplomatic ties and increase business with them.
After becoming the Prime Minister of India, Narendra Modi has embarked on his journey for all-round development of India. He has rebuilt friendly relations with almost all the countries of the world.
Campaign led by Narendra Modi
Narendra Modi has started many ambitious programs for the development of India, such as Prime Minister Jan Dhan Yojana (PMJDY), Make in India, Swachch Bharat Mission, and Shramev Jayate. Demonetisation of Rs 500 and Rs 1000 notes in his masterstroke to curb the black money and corruption in India.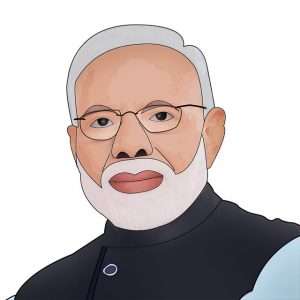 In October 2018, Modiji received the UN's highest environmental award, the Champion of the Earth. Narendra Damodardas Modi received the prestigious Seoul Peace Prize 2018 for his contribution to international cooperation and fostering global economic growth on February 22, 2019. He also received the order of St. Andrew, the highest civilian honor of Russia on 12 April 2019.
He contested the 2019 general election on the theme of "Nationalism and received a massive mandate for his 2nd innings as the Prime Minister of India.
10 Lines About Narendra Modi Essay in English 100 Words
Let's start the short essay on Narendra Modi for kids 100 words
Narendra Damodardas Modi is the present and 15th Indian Prime Minister.
He was born on 17th September 1950 in Vadnagar, Gujarat to a lower-middle-class family.
Modi had a keen interest in politics since the early days of his childhood.
Narendra Modi's father name was Mool Chand Modi and his mother is Hiraben.
He joined BJP (Bharatiya Janta Party) in the year 1987.
Narendra Modi became Chief Minister of Gujarat in October 2001. He governed Gujarat for 13 years.
Due to Narendra Modi's success, fame, and style he got the highest votes and announced as India's 15th Prime Minister of India. He was the 15th and current Prime Minister of India.
Narendra Modi was again elected as a prime minister in the general elections.
One of the most popular leaders who mostly focuses on the development of India.
Narendra Modi has launched many campaigns such as Make in India, Bet Bachao Bet Padhao, Swachh Bharat Abhiyan, Namami Ganga Project, Atal Pension Yojana, Udan Scheme, Digital India, etc.
Also Read – 
I hope you like this article " essay on Narendra Modi".  Comment below for other essay topics.