The long essay on Independence Day 500 Words is suitable for classes 7, 8, 9, and 10 students. A short essay on Independence Day in English 200 Words is suitable for class 1, 2, 3, 4, 5, and 6 students. The essay on Independence Day is also known as the 15 August essay.
India commemorates its Independence Day on August 15 each year. with immense enthusiasm and pride throughout the country. It is the anniversary of India's independence from British dominion in 1947, following years of struggle and sacrifice. This day remembers not only the country's independence but also those who gave their lives in the long run to achieve freedom.
Essay on Independence Day in English
1000+ Words Essay on Independence Day in English for Students for Classes 4, 5, 6, 7, 8, 9, 10, and College Students.
Independence Day History
After the rebellion of 1857, the East India Company gave up sovereignty to Queen Victoria in 1858, establishing British administration in India. The insurrection of 1857 was the first spark against foreign authority over Indian soil. Many campaigns were carried out by the country's liberation fighters to achieve the country's freedom as a result of this.
Introduction
Essay on Independence Day- August 15 is celebrated as the Independence Day of India. It is celebrated as a national holiday by the people of India to commemorate independence from Britain. On Independence Day, the people of India pay healthy tribute to the great leaders because of whom India became free forever.
It is celebrated to commemorate our war heroes like Mahatma Gandhi, Lala Lajpat Rai, Subhash Chandra Bose, and so many others. On Independence Day, the British left India and handed over the reins of the government to the national government of free India.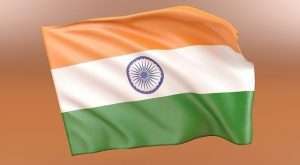 | | |
| --- | --- |
| Date | 15 August |
| Day of Independence Day | Monday |
| Related to | Republic Day |
| Independence Day 2023 Edition | 77th  |
| Type | National |
| First Time | 15 August 1947 |
| Join Telegram for Latest Updates | Join Now |
Celebration of Independence Day
The celebration is more marked in New Delhi. Our Prime Minister of the country gives a speech from the Red Fort every year on this day. Prime Minister also pays his tribute to the leaders of the freedom struggle. On this day, all the national, state, and local government offices, post offices, banks, businesses organization, etc. become closed. In states, Chief Minister unfurls the flag and addresses the people.
The National Flag is also hoisted in many schools and colleges. The National Anthem is sung, Speeches are given, and sweets are distributed among everyone. Many activities, songs, dances, plays, etc. are performed by the teachers and students.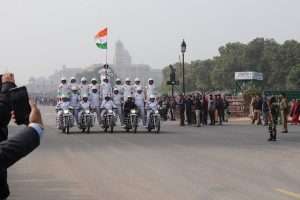 This day also helps to showcase the country's social, political, and economic developments to the world. Independence Day is celebrated with much enthusiasm throughout the country.
On this day we must take an oath to keep ourselves loyal to our motherland. We should take a pledge to live happily with each other and not fight over small issues. Only then can we make India strong.
At 12 PM on 15th August 1947, Pandit Jawaharlal Nehru declared the freedom of India by perusing his speech on "Trust with destiny". He said that after long years of slavery, it is time to take a pledge and let our country succeed.
India became a free country on Independence Day and it's only then we could secure our democratic rights as a citizen of India. Our Independence gives us a reason to enjoy our fundamental rights laid down by the Constitution. We are now a self-governed democratic country and have voting rights.
Conclusion about Independence Day
Today we are free to do anything because of the great Indian freedom fighters. We cannot imagine that horrible moment struggled with our forefathers. They would always be in our memories and a way of inspiration to us for our whole life. Now after many years of Independence, our country is on the right track to development in the field of technology, education, defense, etc.
We must respect our National Anthem and National flag. We must also endeavor to be patriotic like the people who fought for the freedom of our country. It is our duty to protect the freedom of the country. This day should not just be a ritual, but we should think of the poor who are still not free from poverty, hunger, and slavery. Freedom has brought cheers to every Indian.
Important Fact about Independence Day
Lord Mountbatten, the country's Viceroy and first Governor-General chose August 15 as India's Independence Day.
Pakistan gained independence one day earlier than India because the last Viceroy was required to attend both nations' Independence Day ceremonies.
Mahatma Gandhi was unable to attend the inaugural Independence Day celebrations in Delhi because he was in Bengal fighting to halt the Hindu-Muslim clashes.
Following the declaration of Purna Swarajya at the Lahore session in 1929, the Indian National Congress declared January 26th as Independence Day.
India kept King George VI as its head of state until the ratification of the Indian Constitution on January 26, 1950 (celebrated as Republic Day of India).
When Pakistan was created from India, Bangladesh was a part of it and was known as East Pakistan.
Apart from that, Bahrain, North Korea, South Korea, the Republic of Congo, and Liechtenstein celebrate their independence days on August 15.
We hope that after reading this article you must have got detailed information about the Essay on Independence Day in India 2023. If you want to ask any queries regarding the Essay on Independence Day then message us in the comment section, and we will reply to you soon.