Essay on Raksha Bandhan 500 words
500+ Words on Essay on Raksha Bandhan
Essay on Raksha Bandhan- Raksha Bandhan is also called Rakhi Festival or Rakhi Purnima. 'Raksha' means protection and 'Bandhan' means bound. It is an ancient Indian festival. It is one of the important festivals in the Hindu religion. This festival is celebrated all over India on the full moon day of Shravan month according to the Hindu calendar. The festival is most common among the Hindus. However, it is also celebrated by the Sikhs, Jains, and other communities.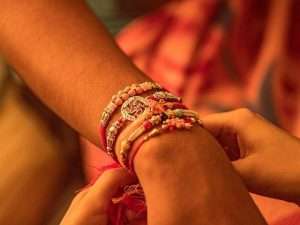 Raksha Bandhan is a festival of brother and sister. On this day sisters tie a special band called Rakhi on their brother's wrist. The brother promises to always protect his sister. A rakhi is made up of cotton thread, silk thread or it can be made up of silver or gold also. In Indian tradition, the fragile thread of rakhi is considered even stronger than an iron chain as it strongly binds brothers and sisters in the circumference of mutual love and trust.
The occasion of Raksha Bandhan
Sister prepares the Pooja thali with diyas, kumkum, rice, sweets, and rakhi. They worship the god, tie rakhi on the wrists of their brothers, and wish they are well being. Brothers gave gifts to their sisters and take a lifelong vow to protect their sisters. Raksha Bandhan celebrates the bond of love and affection between a sister and a brother. On this day there is a variety of gifts present in the market and many sweets are also present in the shops.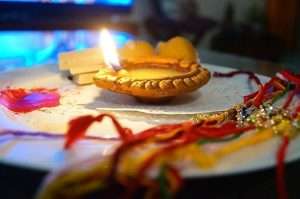 This rakhi is a symbol of the sister's love that stays with a brother forever. On this day tasty dishes, wonderful sweets, etc, are cooked at home. Family members exchange gifts with well-wishers and relatives. whenever the brother is at this festival, but he goes to his sister on this day. Rakhi is tied and his sister comes to her brother whenever he goes to tie Rakhi.
The famous Story of Raksha Bandhan
One of the famous stories of Rakshabandhan from history is of Krishna and Draupadi. Once, Krishna's finger got cut during the fight with Shishupal (an evil king). At that time Draupadi immediately tore off her sari and wrapped it on Krishna's finger. Due to this sisterly loving act, Krishna promised to rescue her from any difficulty.
Nowadays everyone remains busy with their work, but festivals like Raksha Bandhan bring family members and spread happiness and merriment.
10 lines on Raksha Bandhan Essay for Kids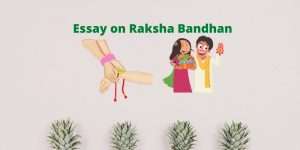 Raksha Bandhan is a well-known festival of India.

Raksha Bandhan is celebrated all over the country with great joy.

It is celebrated on the day of Poornima in the month of Sarvan.

It is celebrated across all over India, 'Raksha' means protection, and 'Bandhan' means bound. This Raksha Bandhan means the Bond of Protection.

On this day sisters apply Tilak on their brother's forehead and tie Rakhi on their brother's wrist.

Brothers give gifts to their sisters and promise to take care of them in every situation.

The brother also in returns gives her sweets and blesses her with good wishes.

Sister prays to God for the safety, Good health, and wealth of her brother.

This festival is a symbol of affection and the sacred relationship between brother and sister.

It should be celebrated by heart, not for a formality.
  I hope you like this Essay on Raksha Bandhan. Press the like button given below and comment for other essays.