Let's start the complete information about the essay on Holi in English for Students and Children. Read this Holi essay and learn all the important information about Holi.
Essay on Holi in English for Students and Children
OUTLINE
Introduction
Story
Holika Dahan 
Conclusion
Write an essay on holi festival in English (500 words)
Introduction
Holi essay in English- India is a land of fairs and festivals. The Hindus, the Christians, and the Muslims have their own festivals. Holi is one of the most important festivals of the Hindus. It is a colorful festival of great joy and enthusiasm. This festival is celebrated all over the country as a day filled with complete fun, and enjoyment.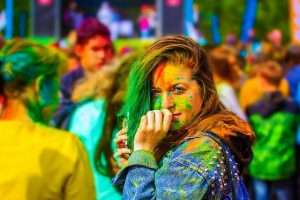 Holi indicates the end of the winters and the beginning of the spring season. According to Hindu Calendar, it is celebrated on the full-moon night of the month of Phalgun (March). Holi festival is also known as the festival of colors.
Story
Holi festival is celebrated to mark the victory of truth over evil, the victory of Prahlad over cruel King Hiranyakashyap. Prahlad was a devotee of God. His father, Cruel King Hiranyakashyap did not faith in God but believed in his own powers. King Hiranyakashyapa failed to deviate his son's devotion to God and decided to kill him by burning him alive. Hiranyakashyap's sister, Holika, had a God-gifted boon that she would not be burnt in the fire. Holika sat with Prahlad in the blazing fire. But Holika herself was burnt and Prahlad survived unhurt. This incident is observed at night before Holi by burning of wood.
Holika Dahan 
During the day, woman folk worship a stack of wooden logs called Holi. Holi is lit in holy ways on the full moon night. The green ears of barley and gram are heated in the fire and distributed among friends and relatives. New friendships are initiated and old enmities are forgotten.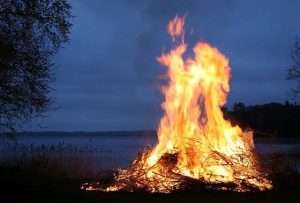 Even today, everyone burns a stack of wood and cow dunk in the night and burn Holika, and the next day everyone plays Holi by rubbing colors on each other's faces. People dress up in white clothes and play Holi with colors, water balloons, and water guns. They dance throughout the day and enjoy a special drink called "Thandai".
Children throw colored water on each other while the elder people apply 'gular' or 'abir'. People celebrate Holi by applying colors and hugging each other and forgot all the bitter emotions between them. People use natural colors for this festival and play with watercolor guns. On this happy day, people eat delicious food like Gujiya, Papad, Halwa, Non-veg, and drink Thandai, cold drink with other food items. Holi connects all of us and fills the colors of love and affection in our relationship.
Holi festival is celebrated with full joy and enthusiasm as it brings closeness among people. Religious texts say that day of playing Holi was started by Lord Radha and Krishna. It is celebrated with enthusiasm not only by Hindus but also by people of all communities.
Conclusion
Holi is a festival of love, universal brotherhood, and goodwill among individuals and communities. this festival gives us the message of unity and brotherhood.
In 2021, we have to celebrate Holi properly because a new virus has spread called Coronavirus. We must follow the manner of civilized citizens and respect others. Please follow proper social distancing and celebrate Holi with limited Gathering.
Also Read – 
I hope you like this post " essay on holi".