This long Nelson Mandela Essay in English is beneficial for School Students of classes 5, 6, 7, 8, 9, 10, 11, and 12, and Competitive Exam Aspirants. After reading this article about Nelson Mandela Essay, you will be able to answer all important questions related to it. CBSE Digital Education provides complete information about an essay on Nelson Mandela.
Introduction
Let's start with the introduction to Nelson Mandela Essay in English.
Nelson Mandela, who ended the policy of apartheid in South Africa, has the same place in his country as that of Mahatma Gandhi in India. He gave African people their rights by conducting a bloodless revolution. There was no violence during this revolution, as he believed in resolving problems through dialogue.
Early Life of Nelson Mandela
Nelson Mandela, a South African Gandhi believed in the ideas of Abraham Lincoln and Martin Luther King. He was born on July 18, 1918, in the small village of Mvezo in Transkei, South Africa on the banks of the Bassa River. His mother's name was Nonqaphi Nosekeni and she was a Methodist. His father, Gadla Henry Mphakanyiswa, served as the local chief and counselor to the emperor.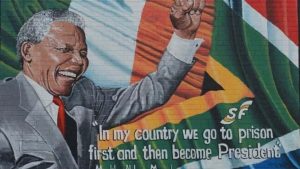 | | |
| --- | --- |
| Full Name | Nelson Rolihlahla Mandela |
| Born | 18 July 1918 Mvezo Village, Transkei, South Africa |
| Died | 5 December 2013 in Houghton, Johannesburg |
| Parents | Gadla Henry Mphakanyiswa (Father) Nonqaphi Nosekeni (Mother) |
| Nickname | Rohilhala Madiba Tata Khulu Dali Bhunga |
| Political Party | African National Congress (ANC) |
| Education | University of Witwatersrand |
| Awards and Honours | Nobel Peace Prize in 1993 Bharat Ratna US Presidential Medal of Freedom Soviet Order of Lenin Gandhi Peace Prize |
| Nationality | South Africa |
His parents named him Rohilhala. The world knows him as Nelson Mandela, but he was also known by other names. He was named Nelson by an elementary school teacher. Mandela is often referred to in South Africa as Madiba, a respectful term for the elderly. Many also called him Tata and Khulu, which in Afrikaans mean father and grandfather respectively. As a teenager, he was known as 'Dali Bhunga'.
Mandela grew up in the village of Qunu, where he spent his early years grazing cattle and playing with other boys in the village. Although both his parents were illiterate, they realized the importance of education and sent him to a Methodist school when he was seven years old.
Education of Nelson Mandela
Nelson Mandela had his early education at Clarkberry Missionary School and his graduation in Healdtown. It was in this college that Mandela met 'Alibar Tambo', who was his lifelong friend and colleague.
Mandela completed his BA at the University of South Africa via correspondence after which he studied law at the University of Witwatersrand. At college, he came into contact with modern principles such as freedom, liberty, democracy, equality, political rights, etc.
He was deeply distressed to see the sufferings of fellow Africans, who were no better than slaves under British rule. Mandela participated in movements against racial discrimination.
By the year 1940, Mandela had gained popularity with his political views and activities on the college campus, due to which he was expelled from the college.
Political Struggle of Nelson Mandela
While in Johannesburg, he became involved in anti-colonial politics, joining the African National Congress & becoming a founding member of its Youth League.
After the South African National Party (ANC) came to power in 1948, Mandela rose to prominence in the ANC's 1952 defiance campaign, was appointed superintendent of the organization's Transvaal chapter, and in 1955 he presided over the People's Congress.
While working as a lawyer, he was repeatedly arrested for seditious activities and, along with the ANC leadership, unsuccessfully prosecuted tried for treason from 1956 to 1961.
Although initially committed to nonviolent protest, he co-founded the militant Umkhonto we Sizwe in 1961 in collaboration with the South African Communist Party, which led a sabotage campaign against the apartheid government. In 1962, Mandela was arrested, convicted of plotting to overthrow the state, and sentenced to life imprisonment at the Rivonia trial.
Nelson Mandela Served over 27 years in prison, initially on Robben Island, and later in pollsmoor Prison and Victor Verster Prison. By that time South Africa was becoming increasingly isolated as a racist state.
Civil unrest had broken out and there was increasing international boycott and diplomatic pressure on South Africa. There was a worldwide campaign to release Nelson Mandela. In 1990, he was released unconditionally.
Nelson Mandela became involved in negotiations with President F.W. de Klerk to end apartheid and establish multiracial elections in 1994, in which he led the ANC to victory and became South Africa's first black president.
First Black President of South Africa
In the first election held in 1994, the ANC, led by Nelson Mandela, won the election and was chosen to lead as the country's first black president. Nelson Mandela's greatest achievement was not in becoming the first black president of South Africa, but in ending the evil of apartheid that divided South Africa's blacks and whites.
As a president, he worked very hard to facilitate the transformation of a minority black regime into a dominant black regime. He ended apartheid and established a new constitution. He also introduced new reforms in the economic policy of South Africa. Mandela's international contribution as a mediator between Libya and the United Kingdom to oversee military intervention and as a human rights activist is also appreciated.
Awards and Honours
In November 2009, the United Nations General Assembly declared 18 July as "Nelson Mandela Day" for Nelson Mandela's anti-apartheid struggle for human rights. More than 250 honors and awards have been presented to Mandela by different countries and institutions of the world.
In 1993, he was jointly awarded the Nobel Peace Prize with former South African President F.W de Clarke. In the year 1990, the Government of India honored him with the country's highest honor 'Bharat Ratna'. He was also awarded the US Presidential Medal of Freedom, the Soviet Order of Lenin, the Gandhi Peace Prize, etc.
Nelson Mandela was awarded the 1993 Nobel Prize for Peace, which he dedicated to Mahatma Gandhi, whom he greatly influenced. In addition, he has received over 250 awards, including honorary degrees, from more than 50 universities around the world to pay tribute and homage to this South African leader for his contributions to democracy, freedom, equality, peace, and human rights.
Nelson Mandela – Charismatic Personality
Nelson Mandela has inspired people not only with his work but also with his words. His autobiography, 'Long Walk to Freedom' provides knowledge and experience capable of shaping ideas. He wrote about his concern about equality for blacks in his book.
Mandela wanted to spread peace, equality, and education and never gave up his devotion to doing so. Despite terrible provocations, he never gave up hope and stood by his principles. His writings and speeches have been collected in "I'm Prepared to Die", "No Easy Walk to Freedom", "The Struggle in My Life" and "In His Own Words".
Conclusion
Nelson Mandela, such a huge personality, died on 5 December 2013 at his home in Houghton, Johannesburg due to a lung infection. The people of South Africa consider him the 'Father of the Nation' and he is seen as the founder of Democracy, National Liberator, and Savior in South Africa.
He is held in deep esteem within South Africa, where he is often referred to by his Xhosa clan name, Madiba, or Tata. He is often described as the "Father of the Nation".
Suggested Article –
I hope you like this article about Nelson Mandela's Essay in English for Students and Children. If you want to ask any kind of query regarding the Nelson Mandela Essay, then message us in the comment section and we will reply to you soon.