This long essay on Ram Nath Kovind in English is suitable for students of classes 5, 6, 7, 8, 9 and 10, 11, 12, and also for competitive exam aspirants. Read and enjoy the complete essay about Ram Nath Kovind.
Essay on Ram Nath Kovind 800 Words
Introduction
Ram Nath Kovind Essay – In India, any person, irrespective of religion and caste, can hold a high position on the strength of his ability. An example of this is Ram Nath Kovind becoming the President of India as the 14th President. Ram Nath Kovind, who belongs to the Dalit community, took the oath of office on 25 July 2017. He is the second Dalit to reach this top post. Prior to this, KR Narayanan became the President in the year 1997.
Education and Career of Ram Nath Kovind
Ram Nath Kovind was born on 1 October 1945, in Kanpur Dehat, Uttar Pradesh in a poor family. His father sold a piece of land to make him a lawyer. His father's name was Late Maiko Lal and his mother's name was Kalavati. His wife's name is Savita Kovind. They have a son, Prashant Kumar, and a daughter, Shweta.
Ramnath Kovind obtained B.Com and LLB degree from Kanpur University. He made a career in advocacy after obtaining an LLB degree and proved to be a proficient lawyer.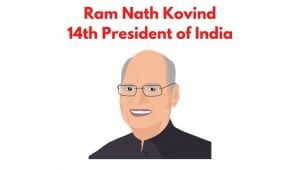 | | |
| --- | --- |
| Born | 1 October 1945 |
| Place of Birth | Kanpur Dehat, Uttar Pradesh |
| Parents | Maiko Lal (Father) Kalavati (Mother) |
| Wife's Name | Savita Kovind |
| Child | Prashant Kumar (Son) Shweta (Daughter) |
| Education | B.Com and LLB degree from Kanpur University |
| Prime Minister at that Time | Narendra Modi |
Ramnath Kovind enrolled as an advocate in 1971 with the bar council of Delhi. His tenure in the Delhi High Court lasted from 1977 to 1979, during which he was a Central Government Advocate in the Delhi High Court. Between 1977 & 1978, he also served as the personal assistant of Prime Minister of India Morarji Desai.
He has also been the General Secretary of the Legal Aid Bureau of Depressed Classes in 1986. Then from 1980 to 1993, he practiced in the Supreme Court on behalf of the Permanent Council of the Central Government.
During his reign, he set up a judicial commission to inquire into irregularities in the selection of ineligible persons, financial mismanagement, and promotion of unqualified teachers in universities, which was praised everywhere. As an advocate, he provided Probono aid to weaker sections of society, women, and the poor under the Free Legal Aid Society of New Delhi.
Politics Carrier of Ram Nath Kovind
Ram Nath Kovind joined the Bhartiya Janata Party (BJP) in 1991. He was the President of BJP Dalit Morcha and President of All India Koli Samaj between 1998 and 2002. He donated his ancestral house in Derapur to the Rashtriya Swayamsevak Sangh. Soon after joining BJP, he contested for the Ghatampur assembly constituency but lost and later contested for Bhognipur (both in Uttar Pradesh) assembly constituency on the BJP ticket but lost again.
On the strength of his skillful efficiency, he was elected Rajya Sabha MP for two consecutive terms. During his tenure as a Rajya Sabha member, he also held distinguished positions such as the Scheduled Castes and Tribes Parliamentary Committee, the Parliamentary Committee on Home Affairs, the Petroleum and Natural Gas Parliamentary Committee, Law Justice Parliamentary Committee, and the Chairman of the Rajya Sabha.
In 1997, he joined the protest against certain orders from the Central government that had adverse effects on the SC/ST workers. Later, three amendments were made to the Constitution that revoked the orders, by the NDA government headed by Atal Behari Vajpayee. On 8 August 2015, the President of India appointed Ram Nath Kovind as Governor of Bihar.
Ram Nath Kovind as President
In June 2017, Ram Nath Kovind was announced as a candidate for the Presidential election. He defeated her opposition candidate, former Lok Sabha Speaker Meira Kumar by securing 65.65% of the total votes. Kovind also got the benefit of cross-voting. He got 3% more votes than the prescribed votes.
The President of India is indirectly elected by an electoral college consisting of elected members of both the Houses of Parliament, the State Assemblies, and the Legislative Assemblies of the Union Territories of Delhi and Puducherry.
Ram Nath Kovind took oath as the 14th President of India on 25 July 2017. He is the first leader of the Rashtriya Swayamsevak Sangh to hold the post of President of India.
He became only the 2nd Dalit representative to become President after K.R. Narayanan and also is the first BJP candidate to be elected to the post.
Conclusion
The term of the President of India is five years.  The President can resign at any time during his term as the Vice-President and he can also be impeached by the Parliament for violating the Constitution.  The President gets a salary of Rs 5 lakh rupees.
Ram Nath Kovind has successfully discharged his functions as the President of India.  The President has presented a suitable solution to all the issues brought before him.  Shri Kovind, being a lawyer by profession, is considered to be a good knower of the Indian Constitution, and that is the reason why he is known as a successful President.
Suggested Article
If you read this essay "essay on Ram Nath Kovind in English. Some important article is given below:
I hope you like this article "Essay on Ram Nath Kovind in English". If you want to give any suggestions then comment below. Share this Ramnath Kovind Essay with your friends.