This long essay on Digital India Campaign in English is suitable for students of classes 5, 6, 7, 8, 9 and 10, 11, 12 and also for competitive exam aspirants. Read and enjoy the complete information about the essay on Digital India.
Essay on Digital India Programme in English 1000 Words
Introduction
Let's start the introduction of the essay on the Digital India Campaign in English.
Digital India Essay – In view of the changing global and social environment and the demand of the times, the Digital India campaign was launched in the year 2015 by the Government of India. It aims to provide easy online government services to the citizens of India and improve the technical aspect of India by empowering the Internet in the country.
Improving digital infrastructure, providing services in digital form, and digital literacy are the three major aspects of this campaign. Though there are many challenges in rural areas such as a lack of digital literacy, internet connectivity, and digital infrastructure, efforts are being made by the government in the region through programs like National Digital Literacy Mission, and Bharat Net to make the citizens make life better.
Digital India Programme Structure
Digital India Campaign comprises various initiatives under a single program, each aimed at preparing India to become a knowledge economy and bringing good governance to the citizens through the synchronized engagement of the entire government.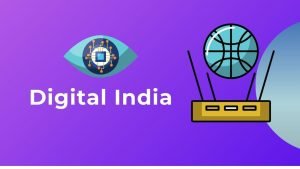 The Campaign is designed and coordinated by the Department of Electronics and Information Technology (DeitY) in collaboration with various central ministries & departments and state governments. The Chairman of the Monitoring Committee on Digital India is the Prime Minister of India.
The vision of the Digital India Programme
The program was launched with the objective of transforming India into a digitally empowered society and knowledge-based economy. There are three major areas focused on under this program:-
Development of secure and stable Digital Infrastructure
With the launch of this campaign, the Government of India aims to have internet connectivity across the country which is reliable. This will be beneficial for the country not only in terms of technology but also for security and educational purposes. It focuses on providing sustainable digital infrastructure and easy access to online services.
Governance and Service on Demand
The various services launched by the government for the benefit of the common man of the country rarely reach those who really need them. With this program, the government also focuses on providing all such services digitally to its citizens. This will encourage and motivate people to do more and more online/electronic transactions which will be easier and will help India to be cashless.
Universal Digital Literacy
With this program, people will get to know more and more about online services like making payments or submitting documents online. This will provide digital empowerment of citizens and make their lives easier, faster, and more comfortable. Digital empowerment of citizens means providing digital literacy to all citizens and providing facilities for citizens to submit government documents digitally.
With the above vision, Digital India Campaign aims to provide Broadband Highways, a Public Internet Access Programme, Universal Access to Mobile Connectivity, e-Kranti (Electronic delivery of Services), E-Governance (Reforming Government through Technology), etc.
Also, Read – Essay on Lockdown in India
Policy Initiatives
Policy initiatives have also been taken for the Government of India in e-governance domains like the e-Kranti framework,  policy on the adoption of open-source software for the Government of India, the framework for adopting open-source software in e-governance systems, Government of India e-mail policy, Policy on open Application Programming Interface (API) for the Government of India, Policy on the use of IT resources of the Government of India, Policy on collaborative application development by opening source code of Government application.
The aim of the Electronics Development Fund (EDF) policy is to promote innovation and product development and create a resource pool of IPs within the country to create a self-sustaining ecosystem of venture funds.
Centre of Excellence on the Internet of Things (IoT) is a joint initiative of the ERNET, DeitY (Department of Electronics and Information Technology), & NASSCOM.
The BPO policy has been approved to make BPO centers in various North-Eastern states and small towns of other states.
Result of the Digital India Programme
Today India has become a center of innovation. Digital identity has been made available to about 99% of the population of India due to Aadhaar. Due to digital locker, e-Sign, digital payment, etc, people are getting government service available on their phones at home, due to which they do not have to travel to different government offices i.e. saving both time and energy.
The digital economy is making the life of common people simple, as well as it is giving strength to the Indian economy because the adoption of the digital economy has given a boost to employment generation.
Also, Read – Essay on Online Education
Important Projects of the Digital India Programme
MyGov (Mobile App or Website Portal): It provides a digital platform where citizens share their views about government programs and schemes. It also encourages people from abroad to participate in various activities.
DigiLocker System: It provides digital space for citizens to keep their public and private documents safe in the public cloud.
Swachh Bharat Mission Mobile App: It will be used by people and government organizations to achieve the goal of the Swachh Bharat Campaign.
BharatNet: In this scheme, by 2018, more than 2.5 lakh gram panchayats in the country were targeted to provide broadband connectivity at a speed of 100 Mbps. It is the most prominent digital connectivity project in the world which is currently going on.
Conclusion
This initiative of the Government of India to transform the country into a digitally empowered nation facilitates the country to switch to high-speed internet facilities, broadband highways, information technology jobs, eradication of black money, cashless transactions, and universal mobile phone use.
Related Article –
I hope you like this Article " Essay on Digital India in English". If you want to give any suggestions then comment below. Share this Digital India essay with your friends.