This long Dr Rajendra Prasad Essay in English is beneficial for School Students of classes 5, 6, 7, 8, 9, 10, 11, and 12, and Competitive Exam Aspirants. After reading this article about Dr Rajendra Prasad Essay, you will be able to answer all important questions related to it.
Dr Rajendra Prasad Essay in English
Introduction
Essay on Rajendra Prasad – When India became independent on August 15, 1947, Mahatma Gandhi, while describing the specialty of Indian democracy, said that even a farmer here can become the president of India. This statement of Gandhiji was soon proved right, when January 26, 1950, the personification of "simple living high thinking" and a great man who led the farmers of Bihar was made the first president of the country.
That great person was none other than the pride of Bihar, Dr. Rajendra Prasad, who gave up his ongoing advocacy to support Gandhiji in the Indian freedom struggle.
Early Life
Rajendra Prasad was born on December 3, 1884, in a village called Jiradei in the Siwan district of Bihar province. His father Shri Mahadev Sahai was a learned man and his mother Shrimati Kamleshwari Devi was a pious woman. His family and financial life were happy. His ancestors were the Diwans of Hathua State.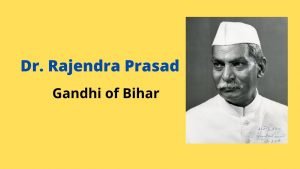 | | |
| --- | --- |
| Name | Dr. Rajendra Prasad |
| Born | 3 December 1884, Jiradei Village, Siwan District, Bihar |
| Died | 28 February 1963 Sadaqat Ashram, Patna |
| Parents | Shri Mahadev Sahai (Father) Shrimati Kamleshwari Devi (Mother) |
| Wife | Rajvanshi Devi |
| Award | Bharat Ratna |
| Calling | Gandhi of Bihar |
Education
Dr. Rajendra Prasad got his early education in the village itself. He had his early education in Persian and Urdu. He started studying Persian at the age of five from a Maulvi Sahib, after that he went to the Zilla School in Chapra. After completing his schooling at the district school, he went to Patna to study at the TK Ghosh Academy. Meanwhile, at the age of 13, he got married to Rajvanshi Devi.
He received his higher education at the University of Kolkata. He got the first position in the high school examination. He came first in all the examinations he gave.
After this, he completed his Bachelor of Law to start a career in law. He also played an important role in the Indian freedom struggle during his studies. In the examinations of L.L.B and L.L.M, he got first place among the students of many provinces. After that, he also obtained a doctorate degree in Law.
Freedom Movement
In 1904, in protest against the dissolution of Bengal, Dr. Rajendra Prasad opposed English goods in his student life itself. When the Congress session started in 1906, at that time he was an ordinary worker.
After completing his law studies, he started practicing in the Patna High Court. He earned a lot of names in advocacy and emerged as a famous lawyer. At the time, in the year 1917, when Gandhiji came to Bihar to get justice for the farmers of Champaran, Dr. Rajendra Prasad met him.
He was greatly impressed by Gandhiji's hard work, dedication, style of work, and courage. After this, the Satyagraha in Bihar was led by Rajendra Prasad. He presented Gandhiji's message to the people of Bihar in such a way that people started calling him the Gandhi of Bihar.
After the Rowlatt Act, he left law and joined Mahatma Gandhi in 1920 when he started the non-cooperation movement. In the year 1922, when Mahatma Gandhi announced the suspension of the 'Civil Disobedience Movement' after the Chauri-Chaura incident, he was criticized by most of the leaders, but even at that time, Rajendra Babu supported him.
Rajendra Prasad left everything and started giving his leadership to Bihar. In the year 1934, a very severe earthquake occurred in Bihar. He was in jail at that time. After being released from jail, even in the condition of ill-health, he went from village to village and arranged for medicines, clothes, food, etc.
He established a national university in Bihar by the name of Bihar Vidyapeeth, but the British did not allow this institution to progress.
Rajendra Babu had to go to jail many times in the struggle for the freedom of the country. But he continued on his path undisturbed. He was twice elected the President of the All India Congress Committee and several times proved his talent by solving the disputes arising in Congress.
Rajendra Prasad as the First President of India
When India became a republic on 26 January 1950, he became the first President of India. After the formation of the new government in the year 1952, he was again elected to this post. In the year 1957 too, he won the presidential election.
While in the presidency, he also traveled to many countries. He is the only President of India to serve two consecutive terms. He held the highest office in the country till May 14, 1962. After this, due to ill health, he retired from his post and went to live in Sadaqat Ashram in Patna. In the same year, the Government of India decorated him with the country's highest honor 'Bharat Ratna'.
Literary Interest
Dr. Rajendra Prasad wrote many books in addition to his autobiography in 1946, Bapu Ke Kadmon Mein 1954, India Divided 1946, Satyagraha in Champaran 1922, Atmakatha, The Unity of India, Mahatma Gandhi and Bihar, etc are notable.
Conclusion
On 28 February 1963, Rajendra Prasad breathed his last at the Sadaqat Ashram in Patna. He may not be present among us today, but the nation can never forget his contribution. In his death, the nation has lost a great son. Dr. Rajendra Prasad was the epitome of simple living and high thinking. His life is exemplary for all of us.
He will always be remembered as a skilled man, friend of the poor, brother of farmers, and leader of men and women and people will continue to take inspiration from his ideals for ages.
Suggested Article –
I hope you like this article about Dr Rajendra Prasad Essay in English. Comment below for any query related to the article. Share this Dr Rajendra Prasad Essay Article with your friends.