Hello Everyone, Welcome To CBSE Digital Education. Today We Are Going To Discuss A Interesting Topic About an Essay on Social Media in English.
After reading this article about Essay on Social Media Advantages and Disadvantages, you will be able to answer all important questions related to it. CBSE Digital Education provides all information regarding the Social Media Essay in English.
Essay on Social Media in English 1000+ Words
This long essay on Social Media Revolution is beneficial For School Students, College Students, Competition aspirants, SSC CGL CHSL MTS, High Court, and UPSC Exam.
Social Media Revolution
In Indian cities on trains, buses, and metros, or at home or in offices and parks, we can see people – young and old or men and women – all busy on their mobiles, their eyes well set on the screen.
It seems as though we are all completely immersed in the happenings inside the mobile; some are watching movies, some doing mail while others texting on WhatsApp. We have become so detached from the outside world that we are often unaware of what is happening in the real world due to excessive engagement in socializing with the media.
Likes, preferences, and interests may vary from person to person but all of our focus is on the screen, or our heart and mind are inside the mobile all the time. This is the social media revolution of the 21st century.
What is Social Media?
A social networking site is an online platform that people use to create social networks or social connections with other people who share similar personal or career interests, activities, backgrounds, or real-life connections. Social media has helped a lot in reshaping the communication industry and redefining the ways in which we communicate and express ourselves. Social media keeps people constantly engaged and accumulates everyone in some trending activity.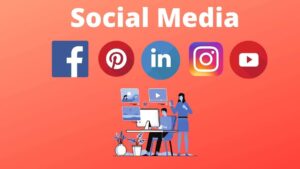 People have adopted social media so strongly that it has now become an integral part of our lives. It is being used not only by individuals but also by businesses, organizations, and governments, who are using social media platforms for continuous engagement with the public. However, there is evidence from various studies that suggest that increased use of smartphones and social media leads to mental distress, self-harming behavior, and suicidal tendencies among youth.
Social Media Connectivity
Almost every home has a seamless Internet or Wi-Fi connection, and for roaming, we have net packs to stay connected at all times. It has become the most important human need after food, clothing, and home. For all our official work, communication, study, and travel we need a Wi-Fi connection that allows us to connect with the world.
Through social media, people connect and communicate with friends and peers. Information is transferred instantly and messages are delivered instantly.
Future of Social Media in India
Social media and networking have evolved tremendously over the past two decades. The growth of social media sites has mainly been facilitated by a large number of young people in India. India has the largest number of Facebook users in the world.
It has provided a huge number of opportunities to individuals, small businesses, teachers, marketing companies, schools, colleges, etc. Thus, social networking media is here to stay and make the leap and bound. Also, e-learning has become a part of everyone's daily routine. Thus, more users are likely to grow on social networking sites.
There is a need to strictly control the flow of misinformation, misuse, and fake news that has the potential to harm citizens. There should be laws and policies that clearly define how people's data is stored, used, and shared as it pertains to India's national security and sovereignty. If social media is regulated appropriately, it will bring huge benefits to everyone.
Advantages of Social Media
Some of the important advantages of social media are given below:
The primary benefit of social media is connectivity. People from all over the world can easily connect with each other. Social media connects us with people we may never meet in person, yet we are able to develop a strong connection with these people.
Social media has immense advantages in the education sector all over the world. With the advent of online classes thanks to the availability of all kinds of learning resources, every student can easily educate himself.
Small businesses & large businesses now have equal opportunities to talk to people through social media platforms. They can advertise their products through social media platforms.
Another primary benefit of social media is that social networking sites such as Facebook and Twitter have sections and groups dedicated to helping people who are facing problems with respect to any products or services.
Disadvantages of Social Media
Some of the important disadvantages of social media are given below:
Social media can also facilitate cyberbullying, which can take dissent to a new level, with little left for victims. People feel more courageous and more apt to attack others by hiding behind screens.
Many of the servers of these social media apps are located outside the country. There have been cases of data leaks and breaches of privacy of its users. Many users of social media are teenagers who are generally unaware of privacy guidelines. The latest example of Delhi's Bois Locker Room was seen in this context.
Excessive use of networking sites has caused many health problems. People who are addicted to these sites experience many negative side effects like headaches, eye strain, sleeplessness, etc.
As the reach of social media is increasing, both 'real' and 'fake' information is coming through social content. People can find real news and they can find fake news which is said to be real.
Conclusion about Social Media
The growing popularity and use of social media tools like Facebook, YouTube, WhatsApp, Twitter, blogging, and wiki have given rise to the social media revolution. Given this widespread impact, it is important for educators, administrators, businesses, and technologists to understand the risks of social media use in the classroom and workplace.
We need to understand the overall effects of social media on our lives, relationships, education, and business practices. An extensive search of the literature was conducted to examine social media and its applications in education, health care, and business. The use of social media is increasing, affecting all aspects of mainstream society.
FAQ of Essay on Social Media
What is the important benefit of Social Media?
Answer: These platforms provide a lot of information that can be useful to students and learners, elders can refresh their knowledge and women can engage in creative activities. Reading a classical book can be problematic for students, but watching the video of the same book on YouTube will surely help the learners to understand the story easily as the visuals teach us quickly and in a better way.
Tasks such as payment, ordering, and communication with executives and businessmen can be done easily and quickly. Money can be transferred in a jiffy and all bills can be paid from a mobile phone. These days all forms are filled out online; Interviews are conducted over Skype and jobs are grabbed through LinkedIn.
What is the side effect of Social Media?
Answer: The bad side of this is that people are connected to hundreds of other people in WhatsApp groups but are miles away from their family members and close relatives.
Many young lives are ruined due to such false traps where hunters and fraudsters use social media platforms to lure innocent people. Crimes such as rape, murder, and kidnapping are being carried out through social media, and many hackers have withdrawn money from other people's bank accounts. Fake news has completely taken over social media where people are spreading fake news and it has become difficult for inexperienced people to differentiate between real and fake.
What are the types of Social Media networks?
Social Networking Sites: Most of us are familiar with social networking sites such as Facebook, Twitter, Telegram, WhatsApp, and LinkedIn. These platforms help us connect with friends, family, and brands.
Media Sharing Network: Social media platforms such as Instagram, YouTube, and Snapchat are used to share photos, videos, and other types of media on the web.
Customer Review Network Sites like Yelp, Zomato, and TripAdvisor help you find, share and review various information about different products, services, or brands.
Suggested Article:
I hope you like this article about the Essay on Social Media in English for Students and Children. If you want to ask any queries regarding the Essay on Social Media, then message us in the comment section, and we will reply to you soon.