This long essay on e-RUPI Digital Payment in English is beneficial for School Students of classes 5, 6, 7, 8, 9, 10, 11, and 12, and Competitive Exam Aspirants. After reading this article about an essay on e-RUPI digital payment, you will be able to answer all important questions related to it.
Essay on E-RUPI Digital Payment in English
All important information regarding E-RUPI Digital Payment is discussed in this blog post.
Why is e-RUPI in the news?
The government of India is going to launch an electronic voucher-based digital payment system called e-RUPI. There are already many countries using the voucher system, for example, the United States, Colombia, Chile, Sweden, Hong Kong, etc.
What is e-RUPI?
e-RUPI is a cashless & contactless medium for digital payments. It is an electronic voucher-based digital payments system that will be delivered to the mobile of the beneficiaries in the form of a QR code or SMS string.
Users of this seamless one-time payment mechanism will be able to redeem the vouchers without a card, digital payment app, or internet banking access at merchants accepting e-RUPI. The E-RUPI will be shared with the beneficiaries through the Short Message Service (SMS) or Quick Response (QR) code by the organizations or the government for a specific purpose or activity.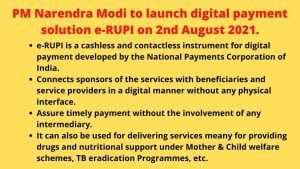 This contactless e-RUPI digital platform is easy, safe, and secure as it keeps the details of the beneficiaries completely confidential. The complete transaction process through this voucher is relatively fast as well as reliable, as the required amount is already stored in the voucher.
Who developed e-RUPI?
National Payments Corporation of India (NPCI) in association with the Department of Financial Services (DFS), National Health Authority (NHA), Ministry of Health and Family Welfare (MoHFW), and partner banks, has launched an innovative digital Platform solution called e-RUPI.
e-RUPI Digital Payment Detail
| | |
| --- | --- |
| Name | e-RUPI Digital Payment |
| Launched Date | 2 August 2021 |
| Launched By | Prime Minister Narendra Modi |
| Medium | Through Video Conference |
| Department | National Payment Corporation of India |
| Worked Under | The Central Government of India |
| Beneficiaries | Citizen of India |
| Official Website | www.npci .org.in |
Benefits of e-RUPI Digital Payment
The entire payment process under this e-Rupee digital platform will be contactless with a two-stage process to be followed. No application, internet, or bank account will be required to make payment through this digital platform. In this, the consumer will also not be required to share any of his personal details, due to which complete confidentiality will be maintained in this e-RUPI digital platform.
Some prepaid vouchers have also been created under the e-RUPI platform which makes the payment process completely easy and secure. The vouchers can be used easily by following a few steps and hence there will be no need to handle cash in hospitals. Contactless and easy payments can be ensured with the help of vouchers received under the digital platform. With the help of a verification code, the work of making the payment process completely easy and secure is done on this digital platform.
Benefits for Corporate Sector
Vouchers can be generated & distributed through the e-RUPI digital platform for the betterment of employees working in any corporate sector. Through this digital platform, only that person will get the voucher in whose name the voucher will be generated and that person will be able to use that voucher.
How e-RUPI is different from the virtual currency?
In fact, e-RUPI is still backed by the current Indian rupee as the uniqueness of the underlying asset and its purpose make it different from a virtual currency and place it closer to a voucher-based payment system.
Significance of the E-RUPI Digital Platform
The Government of India is already working on developing a Central Bank Digital Currency and the launch of e-RUPI could potentially highlight gaps in the digital payment infrastructure that will be essential to future digital currency success.
What are the advantages of e-Rupee Digital Currency?
There will be no physical interference with e-RUPI. It will connect directly to the sponsor and beneficiaries of the services thus completely eliminating physical interference.
As it will come in the form of a prepaid voucher, users will have to pay just by tapping. Card, Net Banking, and Mobile Banking will not be required to pay e-RUPI vouchers.
The private sector can also take advantage of the e-rupee platform. They can avail of vouchers only under employee welfare programs.
The best advantage is that the service provider will get the money only after the payment is done successfully.
Conclusion
As we know Prime Minister Narendra Modi launched the India Digital Payment Solution e-Rupee platform on 2nd August 2021 as the best-ever payment solution in India. So along with that, you can check the e-Rupee prepaid voucher details. The Prime Minister launched e-RUPI through video conferencing and will tell many more benefits of e-RUPI.
e-RUPI Mobile App Download
To make the digital platform easier, the e-RUPI Mobile APP has also been launched which you will be able to download with the help of simple steps given below:
Step I: The e-Rupee mobile application can be downloaded to any Android phone or Apple phone with the help of the Google Play Store.
Step II: You have to search for e-RUPI digital payment by going to Google Play Store.
Step III: As soon as you search, you will see the e-RUPI Digital Payment app at the top.
Step IV: You have to click the e-RUPI digital payment app. After clicking, you will see the Install Icon. As soon as you click on that install icon, the e-RUPI digital payment mobile app will be downloaded to your mobile phone.
Suggested Articles –
I hope you like this article about the essay on e-RUPI digital Payment in English. Comment below for any query related to the article. Share this essay on e-RUPI digital payment with your friends.