Hello, Welcome To CBSE Digital Education. Today We Are Going To Discuss A Interesting Topic About "Essay on  Ayushman Bharat Yojana".
After reading this article about Essay on Ayushman Bharat, you will be able to answer all important questions related to it. CBSE Digital Education provides all information regarding the essay on Ayushman Bharat Yojana.
Essay on Ayushman Bharat Yojana for Students
This long Essay on Ayushman Bharat is beneficial for School Students of classes 5, 6, 7, 8, 9, 10, 11, Competitive Exam Aspirants, and UPSC Aspirants.
Introduction
Health is a resource for physical, social, and mental well-being to lead a life full of prosperity. Ensuring healthy living and promoting well-being for people of all ages is important for building a prosperous society. Healthy people are the foundation of a healthy economy because healthy populations live longer, are more productive, and save more.
Therefore, a nation needs to ensure a healthy life. There is a need for a strong commitment by the nation-states to ensure a healthy life for all. The benefits of strong health initiatives outweigh the costs.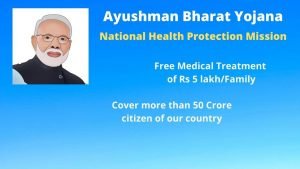 | | |
| --- | --- |
| Project Name | Ayushman Bharat Yojana |
| Project Type | Health Insurance |
| Launched | 23 September 2018 |
| Ministry | Ministry of Health and Family Welfare |
| Beneficial | Indian Citizen |
| Budget | 8088 Crore (2021-22) |
| Status | Active |
The Indian Constitution under Article 47 instructs the state to raise the nutritional level and standard of living of its people and mentions the improvement of public health among its primary duties. On health parameters, India has improved a lot in the last decades. Life expectancy has exceeded 69 years, infant mortality, under-five mortality, and disease incidence rates are declining. Many diseases such as polio, guinea worm disease, yawns, and tetanus have been eradicated.
Status of healthcare in India
India has been adversely affected due to the rising coronavirus outbreak in the world, making healthcare for all difficult in a country where only 20% of the population has health insurance coverage. There is a large group that is missing. India has a vast healthcare system, but there are many differences in the quality of public and private health care in rural and urban areas as well.
The Indian healthcare system is run by public and private healthcare providers but has its own limitations. Public sector hospitals in India are overburdened; There is fewer staff and also face shortages of medicines and equipment.
The private health system is responsible for providing most of the health care in India but it is very expensive. According to data published by the National Sample Survey Office, 55 million Indians are pushed into poverty in a single year because of the money they have to spend on their health care. Of this, 38 million fall below the poverty line due to spending on medicines alone.
About Ayushman Bharat Yojana
Ayushman Bharat Yojana or Pradhan Mantri Jan Arogya Yojana (PMJAY) or Rashtriya Swasthya Suraksha Yojana has been launched under the Ayushman Bharat Mission of the Ministry of Health and Family Welfare. It is a centrally sponsored scheme launched in September 2018.
The scheme aims at interventions in primary, secondary, and tertiary health systems, with the aim of covering both preventive and promotive health and addressing healthcare holistically.
Awareness Generation Under Ayushman Bharat
Since, it is an entitlement-based scheme where there is no advance enrollment process, making the beneficiaries aware of the scheme is the most important aspect.
Information, education, and communication activities are also undertaken to educate the beneficiaries about the scheme. Various modes of communication like leaflets, booklets, TV, Internet, radio, etc are being used to create a comprehensive communication strategy to spread the desired messages among the target audience.
A detailed communication strategy has been developed by the NHA (National Health Authority) which is to be implemented both at the national and state level.
NHA is also working on overall collaboration and capacity building with the states for the implementation and development of communication strategies required to raise awareness at the state level.
Major Element of Ayushman Bharat
In fact, Ayushman Bharat is an umbrella of two major health initiatives: the National Health Protection Scheme (NHPS) and Wellness Centres.
Under the National Health Protection Scheme (NHPS), which aims to cover over 10 crore poor and vulnerable families, which means providing coverage up to Rs 5 lakh per family per year for secondary and tertiary health care or hospital treatment facilities about 50 Crore beneficiaries.
One of the core principles of the Ayushman Bharat schemes is cooperative federalism and flexibility in giving policy directions to the states and coordination between the Center and the states.
It is proposed to set up Ayushman Bharat National Health Protection Mission Council (ABNHPMC) at the apex level Chaired by the Union Minister of Health and Family Welfare Minister. States will need a State Health Agency (SHA) to implement this scheme.
Aim of the Ayushman Bharat Scheme
The aim of the Ayushman Bharat scheme is to open wellness centers across the country for which 120 Crore was allocated for 1.5 lakh health and wellness centers, these wellness centers will be set up to provide comprehensive health care including non-communicable diseases and maternal and child health services, apart from free essential medicines and diagnostic services.
Through this scheme, the government aims to upgrade the existing Public Health Centres into Wellness Centres. This Wellness Centres will provide the following services:
Pregnancy care and maternal health services
Child health
Neonatal and infant health services
Non-communicable diseases
Dental care
Chronic communicable diseases
Management of mental illness
Geriatric care emergency medicine
Benefits of Ayushman Bharat Yojana
When fully implemented, this massive initiative will help India progressively achieve Universal Health Coverage (UHC) and Sustainable Development Goals (SDG). It will also ensure better access and affordability of quality secondary and tertiary care services through a combination of public hospitals and private healthcare providers.
This will significantly reduce out-of-pocket expenses for hospitalization and the financial risk arising from devastating health-related illnesses and impoverishment for poor and vulnerable families.
Limitations of Ayushman Bharat Yojana
Though Ayushman Bharat is a welcome step taken by the government toward universal health coverage, it has some limitations.
Funding is the main concern for the smooth running of this scheme.
The shortage of doctors and specialists is also one of the major concerns, a problem faced by most hospitals across India.
The scheme is limited to the weaker sections of the society identified as per the Socio-Economic Caste Census, 2011. Therefore, it will not be called universal coverage in the true sense.
Many states lack internal capacity and sophisticated processes to implement national portability which is a key feature of PM-JAY.
Another limitation is that it requires states to contribute 40% of the expenditure, but most of the states are in poor financial condition. There is also an urgent need to strengthen health professionals, skilling, and re-skilling programs.
Conclusion
This Scheme is not only a positive step towards universal health coverage, it will also help in poverty reduction and employment generation. It keeps disease away by providing health coverage to all.
Referring to the Ayushman Bharat scheme, World Health Organisation (WHO)  chief Tedros Adhanom Ghebreyesus has said, "COVID-19 Pandemic which has posed challenges for many countries could be an opportunity for India to speed up the health insurance scheme such as Ayushman Bharat".
I hope you like this article about the Essay on Ayushman Bharat in English for Students and Children. If you want to ask any queries regarding the Essay on Ayushman Bharat Abhiyan, then message us in the comment section, and we will reply to you soon.