Hello, Welcome To CBSE Digital Education. Today We Are Going To Discuss A Interesting Topic About the 3030 Eklavya Series. In this article, we discuss all important information regarding the 3030 Eklavya Program.
In this Article, we discuss about all important topics related to Eklavya Series like Why Eklavya Series in news, What is 3030 Eklavya Series, How to register in Eklavya Series, and other important topics.
CBSE and IIT Gandhinagar Initiative 3030 Eklavya Series
The New National Education Policy 2020 envisions a transformative change in education. The goal is to enhance our students' creativity, out-of-box thinking, conceptual understanding, and learning how to learn.
Towards this objective, CBSE and IIT Gandhinagar are collaborating to take the Eklavya series forward. The focus of the series will be on clarifying New Education Policy and showing how to effectively implement NEP 2020 in schools.
Why 3030 Eklavya Series is in News?
After the phenomenal success of 3030 STEM (1 Crore Views, 5 Lakh Subscribers), CBSE and IIT Gandhinagar are coming up with Eklavya Series this Teachers Day (September 5).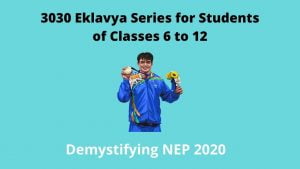 Implementing the vision laid down by the National Education Policy 2020 may, at times, seem intimidating to the school teachers and administrators. This is the gap that CBSE (Central Board of Secondary Education) and IITGN are trying to fill with the Eklavya series: to dismantle NEP and show how to implement New Education Policy 2020 effectively across the schools.
What is the 3030 Eklavya Series?
Eklavya is an interactive online educational program that will include:
many practical activities, projects, models that help in conceptual understanding of various subjects.
thought-provoking questions, actions that foster out-of-the-box creative thinking (Why Neeraj Chopra threw the spear at 36 degrees).
Inspirational DIY (do it yourself) video projects using local materials that relate the curriculum to life.
The content will be of varying levels and will cover topics in the Science and Mathematics syllabus for classes 6 to 12. Therefore, students of these grades should take advantage of this opportunity to register and participate for conceptual clarity and joyful learning.
All Principals are requested to take advantage of this opportunity to meet the required number of teacher professional development hours for their teachers by asking teachers to enroll in this course. For teachers, successful completion of the course along with submission of homework will be considered equivalent to 30 hours of teacher training/capacity building program.
This series will help students and teachers by equipping them with a scientific approach and core competencies. The details are:
Program Name 
3030 Eklavya Series
Registration Start
Registration Opens on 10th September 2021
Time
Live every Sunday 4-5 pm
First Episode (26th September 2021): Neeraj Chopra and Newton's Laws of motion
Organized by 
CBSE and CCL IIT Gandhinagar
Participation
FREE (Registration is compulsory)
Important Link for Eklavya Series 
If you want to watch a live episode of this program then Subscribe to the Official

Youtube channel of CCL IITGN

.
For Recording, Homework, and Certificate visit the Official Website of Eklavya or Click here for this

Link

.
How to register in the 3030 Eklavya Series?
If you want to register in Eklavya Series 2021 then follow the steps given below:
Step I: Visit the official website Eklavya or click here to visit the Registration Form Page.
Step II: Fill in some basic details like First Name, Last Name, Email, Mobile Number, and Password then select some other information:
Select school board,
Select state and select district,
Select tyes of the institution,
Select I am a (teacher, student, parent),
Enter your school name,
Select got to know about the program (Social media, notification from the board, others)
Select the certificate details
Step III: Check the box (I am not a Robot) and click on the "Pay for Certificate" Button.
Step IV: After completing the payment, your registration will be completed.
Certificate Details of Eklavya Series 
Participation Certificate for all Modules (Rs 100 + 18 % GST)
Certificate of Competency for the whole course (Rs 100 + 18% GST)
Contact for any Query Related to 3030 Eklavya Program
 Email: eklavya[at]iitgn.ac.in
  Call: 079-23952240
I hope you like this article about the 3030 Eklavya Series. If you want to ask any queries regarding the Eklavya Series, then message us in the comment section, and we will reply to you soon.
  Click here for More Educational News