Hello, Welcome To CBSE Digital Education. Today We Are Going To Discuss A Interesting Topic about CBSE Reading Mission. In this article, we discuss all important information regarding this Reading Mission launched by CBSE.
CBSE Launches CBSE Reading Mission for School Students
Stories and reading are an important part of the growth of children and development. Reading literacy is not only a basis for achievement in other subject areas within the educational system but also a prerequisite for successful participation in most areas of adult life.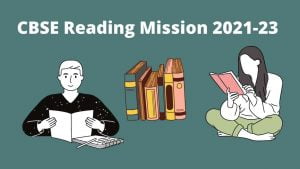 The New Education Policy (NEP), 2020 emphasizes the need and importance of well-stocked school libraries to achieve the goal of basic literacy and numeracy for all children by the year 2025. It recommends providing quality children's literature to build a culture of reading across the country.
About Reading Mission
The CBSE is coming up with a 'Reading Mission' to promote reading literacy among learners. Reading Mission, according to CBSE (Central Board of Secondary Education), is a 2-year initiative to encourage students to read and engage actively with books. "The project will help students acquire the critical ability to read with comprehension. Hindi and English teachers in over 25,000 CBSE schools will be provided with quality reading material suitable for classes 1 to 8 learners.
The Reading Mission will be launched by CBSE Chairman Manoj Ahuja on 20th September (Monday) in the presence of eminent educationists – Dr. Joseph Emanuel, Director Academics, Ms. Rukmini Banerjee, CEO of Pratham Education Foundation.
CBSE Reading Mission Overview
Title
Launch of the CBSE Reading Mission along with Teachers'
Webinar on Building a Culture for Reading in Schools
Date
20 September 2021 (Monday)
Timing
3 PM to 4:30 PM
Mode
Online
Platform
Youtube (Link given below)
Beneficial for
School Students
How to attend the CBSE Reading Mission webinar?
CBSE Reading webinar is going to happen on the official YouTube channel of CBSE. To participate in this webinar, you have to search the "CBSE Academics & Trainings" channel on YouTube or Click here to this Webinar Link for attending this webinar. This webinar will be live on the "CBSE Academics & Trainings" YouTube channel on 20 September 2021.
CBSE Reading Mission Details
Committed to this goal, the Central Board of Secondary Education (CBSE) seeks to promote Reading Literacy among learners. The Board is partnering with Pratham Books StoryWeaver and CentralSquare Foundation to launch a two-year CBSE Reading Mission on 20 September 2021 at 3:00 PM.
In line with the recommendations of NEP 2020, under this mission, schools and teachers will have access to quality English and Hindi children's storybooks and supplementary resources for classes 1 to 8.
In addition, the CBSE would be extending the CBSE Reading Challenge (English & Hindi), currently conducted for students of classes 8 to 10 to students of classes 6 to 7.
School heads are requested to participate in the program and disseminate the above information among the teachers to ensure maximum participation.
Aim of CBSE Reading Mission
The Reading Mission will help in the overall development of the reading culture and students by increasing the vocabulary of the students, making connections between stories and their own lives, and exposing them to new ideas. We encourage all schools to actively participate and join CBSE in nurturing the next generation of readers and learners.
Contact for any Query Related to Reading Mission
 Email: Cbse.reading.mission[at]cbseshiksha.in
I hope you like this article about CBSE Reading Mission. If you want to ask any queries regarding the CBSE Reading Challenge 2021, then message us in the comment section, and we will reply to you soon.
  Click here for More Educational News