Essay on Mother Teresa in English for Students and Children 500+ Words
Introduction
Early Life
Contribution
Awards and Honors
Conclusion
Long and Short Essay on Mother Teresa for Student and Children in English
In this article, there are two essays that mentioned Mother Teresa for Students and Children. The first essay is a long essay on Mother Teresa of 500 words. This long essay about Mother Teresa is suitable for students of classes 7, 8, 9 and 10, 11, 12 and also for competitive exam aspirants. The second essay is a short Mother Teresa essay in English of 200 words. These are suitable for students and children in classes 3, 4, 5, 6.
Long essay on Mother Teresa in English For Students of classes 7, 8, 9, 10, 11, 12 and also Competitive exam aspirants.
Introduction
An essay on Mother Teresa – The real name of Mother Teresa was Agnes Gonxha Bojaxhiu and "Teresa" was the name she assumed, taking a cue from the name of Yugoslavia. It is generally believed that this world exists because of some great spirits. There is a saying that a nightingale visits a garden only once in blue moon.
Early Life
Mother Teresa was born on 26 August 1910 in Skopje in Yugoslavia. His father was a builder but he died when she was quite a young girl. Her mother was a kindly, religiously-minded lady who left a great impression on young Agnes' mind.
During those impressionable years of her life, Agnes developed the idea of serving the poor sections of mankind. The decisive movement for her came when she left for Ireland in 1928 at the age of 18. There she entered the Loreto congregation. At the time in Bengal, the sisters of Loreto were carrying out missionary work. A year later she came to India with a longing to join them.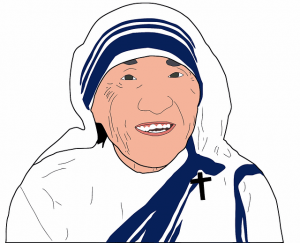 Born 
26 August 1910 in Skopje in Yugoslavia
Died
5 September 1997 (aged 87)
Awards

Nobel Peace Prize in 1979
Bharat Ratna in 1980
Soviet Land

Nehru

Award
Angel of Peace

Founded

Missionaries of Charity in 1950 
Nirmal Hriday in 1956
Brothers of Charity in 1993

Religion
Catholicism
Title
Superior general
Mother Teresa joined as a teacher in St. Mary's School in Calcutta. She performed her duties with a spirit of great devotion and dedication. Later, she became the Principal of St. Agnes' High School for Girls at Calcutta (now Kolkata) after years of teaching in the congregation's schools and convents.
Apart from her teaching assignment, Mother Teresa spent her time observing the common people and greatly touched by the plightful condition of the slum-dwellers who lived not far away from school. Her missionary assignments also took her to Darjeeling. It was during one of the journeys that she was cut out for a different job. She was to be the servant of the poorest, the lowliest and the lost, the abandoned and the wretched, the orphans and lepers and untouchable sick dying people.
Mother Teresa took Indian Citizenship in 1948 she went about collecting human wrecks on the streets, housed them, and begged from door to door for food.
Contribution
Mother Teresa founded the Missionaries of Charity in 1950 with just a few sisters. Later in 1956, she founded the famous "Nirmal Hriday". It was a home for the destitute and was housed in a building provided free of cost by Calcutta corporation authorities. Help from the people was little. She did not give up. The enmity of the local people who wanted to drive her out changed when she housed a dying priest stricken by cholera whom no one would touch.
Later Nirmal Hriday homes for destitute children, leper colonies, and clinics for the poorest followed. Thereafter, in 1993 she founded the Brothers of Charity missionary organization. Her fame spread to dozens of countries and several of her homes were set up across the world, where the avowed aim was to serve the poorest, lowliest, and the lost. Today, they run hundreds of homes in Asia,  America, Europe, and Australia. She became famous in the world as Mother Teresa.
Awards and Honors
Mother Teresa won many awards and honors. She won the Nobel Peace Prize in 1979 and the highest civilian award of India Bharat Ratna in 1980. She was given the Soviet Land Nehru Award for promoting friendship among the people and helping the poor and unfortunate in 1990. She had received the honor of 'Angel of Peace.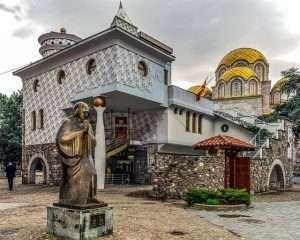 Mother Teresa was canonized posthumously by the pope at a glittering ceremony in Rome in October 2003. The awards and appreciation had not changed her life or her sisters. She had dedicated her life to the service of mankind.
Mother Teresa always remained a friend of the poorest and was not interested in any recognition of her services. She even refused to partake in the Nobel Prize launch offered by the President of America and advised him to distribute the money meant for her launch among the poorest of the world.
Conclusion
In 1991, Mother Teresa suffered pneumonia leading to congestive heart failure. Her work is still going on after her death on 5 September 1997 (aged 87). She appointed her disciple Sister Nirmala in her place before her death. Her death stunned millions of people over the world.
Mother Teresa will always be remembered as one of the greatest women in the world. She will be remembered by mankind not just for decades and centuries but for millenniums. She was great humanity and environmentalist and her speech at Stockholm delivered to safeguard the world environment will never be forgotten by lovers of mankind.
Also Read – 
I hope you like this post about "Essay on Mother Teresa". If you want to give any suggestions then comment below. Share this essay with your friends.