Prime Minister's Scheme for Monitoring Authors YUVA (Young, Upcoming, and Versatile Authors)
Introduction
Govt Launches YUVA Scheme for Young Authors- The National Education Policy 2020 has laid emphasis on the empowerment of young minds and creating a learning eco-system that can prepare young readers/learners for leadership roles in the future world. In this context, a national plan to mentor generations of young writers would go a long way in laying the foundation for the future leaders of the creative world. This is a completely new concept for national-level planning.
The scheme has been envisaged on the premise that there is a need to create a generation of young writers to make twenty-first century India the ambassador of Indian literature. Considering the fact that our country ranks third in the field of book publishing and we have a wealth of indigenous literature, India should present it at the global level.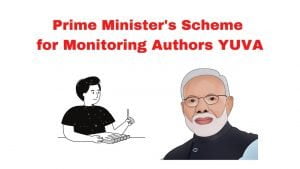 India with 65% of the total youth population, India tops the charts waiting to be tapped for capacity building and thus nation-building. There is an imminent need to take initiatives at the highest level, under the Prime Minister's national-level visionary flagship program like Ek Bharat Shreshtha Bharat, with a clear objective of mentoring a new generation of young creative writers.
The scheme will help to develop a stream of writers who can write on a spectrum of subjects to promote Indian heritage, culture, and knowledge system. In addition, the scheme will provide a window for aspiring youth to express themselves in their mother tongue and represent India on a global/international platform.
Focus Area of YUVA Scheme
The scheme is part of the India @75 Project in order to bring to fore the perspectives of the young generation of writers on themes like Unsung Heroes, Freedom Fighters Unknown, and Forgotten Places and their role in the National Movement and other related themes (or Topics) in an innovative and creative manner.
Concept of YUVA Scheme for Young Authors
The scheme will be a social investment for a knowledge-based society, which will spread the idea of appreciation of literature and language among young creative minds. Through mentoring the creative skills of young authors, the scheme will provide them training for cultural and literary perspectives.
Grooming them as authors and creative leaders of the future, this scheme will ensure to bring to the center the rich heritage of accumulated ancient Indian knowledge.
Proposal of YUVA Scheme for Young Authors
This proposal of mentorship of young authors is in tune with the Prime Minister's vision of Global Citizen that needs to be launched to train young and budding authors of below 30 years in order to promote reading, writing, and book culture in the country, and project India and Indian writings globally.
Implementation and Execution of YUVA Scheme
The National Book Trust, India (Under BP Division, the Ministry of Education, and Government of India) as the implementing agency will ensure the phase-wise execution of the scheme under well-defined phases of mentorship.
Important Fact of YUVA Scheme for Young Authors
Scheme Name 
YUVA Scheme for Young Authors
Full-Form of YUVA 

Young, Upcoming, and Versatile Authors

Launched on 
29 May 2021
Online National Contest Organized
1 June 2021 to 31 July 2021
Selection
75 Authors will be Selected
Scholarship

Each of the selected 75 authors is to be paid a scholarship of Rs 50,000 per month for a period of six months.
National Book Trust, India will publish books produced by young authors under the mentorship scheme.
Selection procedure of Young Authors
A total of 75 authors will be selected through an All India Contest to be conducted through the official YUVA  website.
Selection will be done by a committee constituted by NBT.
This YUVA scheme has been launched on 29th May 2021.
The Contest Period will be from 1st June to 31st July 2021.
Under the mentorship scheme, the participants will be asked to submit a 5000 words manuscript to judge their suitability for developing it into a suitable book.
The names of the selected authors will be announced on 15 August 2021 on the occasion of Independence Day.
Based on mentorship, the selected authors will prepare the manuscripts for final selection under the guidance of nominated mentors and the winners' entries will be ready for publication by 15 December 2021.
Published books can be launched on Youth Day or National Youth Day on 12 January 2022.
Complete Information about  Training Notification of Yuva Scheme for Young Writer.
Other Suggested Article for Students, Teachers, and Principals
I hope you like this article about YUVA Scheme for Young Authors. Comment below for any query and suggestion related to this article.