Hello Students and Teachers, Welcome To CBSE Digital Education. Today We Are Going To Discuss A Interesting Topic About Young Warrior NXT Bot Program 2021.
CBSE Digital Education provides all important information regarding CBSE Young Warrior NXT Bot Program 2021. Read this complete article till the end.
CBSE Young Warrior NXT Bot Program 2021 for Students
Young Warrior NXT Bot to engage students in activities to impart life skills & employability skills: This is in continuation of CBSE (Central Board of Secondary Education) Circular No. 33/2021, Notification No. 51/2021, and Circular No. 64/2021 regarding the Young Warrior Movement where CBSE has collaborated with UNICEF and Yuvah.
The movement inspired over 6.6 million youth to take action against Coronavirus (Covid-19) Pandemic. Thanks to all the teachers & students who actively participated and became young warriors.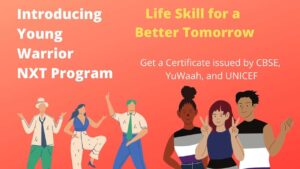 Central Board of Secondary Education now invites all teachers, students, and staff members to participate in the Young Warrior NXT program which aims at imparting essential life and employability skills to the youth between the age group of 14-24 years. To begin with, youth are encouraged to register themselves on the ChatBot that interacts and enables learning in a fun and interactive manner.
Users can learn skills like problem-solving, self-awareness, communication, collaboration as well as work on job preparation and stress management through easing of tasks on this interactive bot. The tasks are self-propelled and all participants completing at least 10 tasks out of a total of 20 tasks will be issued a certificate of completion jointly by CBSE, Yuvah, and UNICEF.
Young Warrior NXT ChatBot Accessed Platform
The chatbot can be accessed via WhatsApp, Facebook, or Telegram.
Click on this ChatBot link to go to WhatsApp chatbot, or simply send 'YWNXT' on +91 9650414141.
To register for Young Warrior NXT, you can also follow the link in the creative attached to this notice!
Search for "UReportIndia" on Telegram and Facebook Messenger and click start and register to be a #YoundWarriorNXT.
Principals & teachers of all CBSE affiliated schools should encourage all students between the age group of 14-24 years to register and participate in this unique learning experience.
UNICEF, Yuvah, and CBSE will be hosting a webinar tentatively in the third week of November 2021 to assist teachers on how to use chatbots and how to learn and teach these essential life skills to students.
To register for the webinar please visit the link below, webinar details will be broadcast directly to all registered participants. There is no limit on participation per school and we encourage as many teachers and principals as possible to register for this online webinar.
Key Life Skills Focus in Young Warrior NXT Program 2021
Five key life skills are in focus in Young Warrior NXT Bot Program 2021:
Self-awareness,
Problem-solving,
Communication,
Collaboration
Achievement-orientation
How to register in the Young Warrior NXT Program
If you would like to participate in the Young Warrior  NXT Bot Program 2021, follow the step given below:
Step I: Click here to this Registration Link to register in this Young Warrior NXT Program.
Step II: After clicking the above registration link, the Registration form will open.
Step III: Fill in all details asked in the registration form such as
Enter your Email
Enter your Name
Select Designation
Enter your School Name
Enter your State
Enter your City
Enter Email and Phone Number
Tick "Yes" to Receive Notifications of YuWaa/UNICEF Initiatives.
Step IV: After filling in all the above details, click on the "Submit" button.
Conclusion About Young Warrior NXT Program 2021
Kindly circulate the engaging creatives among the students for maximum participation in this initiative. More than 1 lakh students from across the country have already joined the movement since it was launched by the Ministry of Youth Affairs and Sports (MoYAS) on 12 August 2021. All the activities under this initiative can be done in a safe environment following the COVID-19 suitable norms.
I hope you like this article about the CBSE Young Warrior NXT Bot Program 2021. If you want to ask any queries regarding the Young Warrior NXT Program 2021 then message us in the comment section, and we will reply to you soon.
  Click here for More CBSE News