Online Classroom Program for Young Warrior Movement for Teachers and Students
Schedule for Online Classroom Engagement for Young Warrior Movement for Teachers and Students of CBSE affiliated schools
Why was the Young Warrior Movement launched?
The rapid spread of the Coronavirus pandemic has forced our everyday routines to retreat. We have collectively seen an increase in public fear and anxieties. Children are particularly affected by this. We need processes, tools, and systems for engagement that will help children be better informed, be inspired, encourage them to understand their fears, and take the initiative to overcome them.
That's why we are excited to present the teacher manual for the #YoungWarrior Program in partnership with CBSE, Yuvah, and UNICEF and supported by Cognizant. #YoungWarriorprogram is a nationwide movement involving 5 million youth to lead action against the COVID-19 Pandemic and impact 50 million people. This manual guide is designed just for you to support your students through engaging sessions to learn about the appropriate behavior of Covid-19 through the power of performing and visual arts.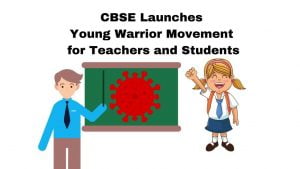 CBSE Notification about Young Warrior Program
This is according to the Central Board of Secondary Education (CBSE) circular No. 33/2021 – Notification Number 51/2021 and Circular Number 64/2021 regarding Young Warrior Movement which is running successfully in collaboration with UNICEF and YuWaah.
An orientation session was conducted on 14 July 2021 for teachers to engage students more meaningfully in the youth warrior movement through 5 engaging and informative art-based online sessions. For those who missed this teacher training workshop, the recorded session is available on the "CBSE Academics & Trainings" Youtube Channel.
CBSE Young Warrior Movement Registration Link
In order to disseminate the session details among all teachers and students, schools are requested to nominate at least 2 teachers as nodal points who can register from this registration link. Those participants who have registered previously need not register again.
The classroom sessions will be conducted from 22nd July as per the schedule given below. Teachers can either conduct this LIVE in their online classes or allot suitable time with their students to conduct it.
Download Manual Guide of Young Warrior Movement
The sessions are expected to be conducted in a mixed manner, with 30 minutes for YouTube sessions followed by 30 minutes of activity as per the teacher's manual which can be viewed here.
Resources for all 5 sessions can be downloaded here.
Schedule and Topic of Young Movement Program 
Date and Time
Topic
Methodology & Art Form
22nd July 2021 (Thursday)

12 pm to 1 pm

Session 1: Vaccination Buddy

Through this session, students will learn about ways to prevent and deal with the virus. They will be informed of the need and urgency of vaccination.

Poetry = Written 8 lines acrostic poem
29th July 2021 (Thursday)

12 pm to 1 pm

Session 2: Stress Buster

Through this session, students will understand their feelings (or emotions) and themselves during the pandemic.

Emotion Floor Plan Drawing
5th August 2021 (Thursday)

12 pm to 1 pm

Session3: Fake News

Students will learn to advocate for and promote accurate information by learning to identify fake news

Theatre = Video as a Reporter
12th August 2021 (Thursday)

12 pm to 1 pm

Session 4: Covid-19 Recovery Tale

Students will learn how to care for their surroundings and family members. They will be informed about the signs they need to watch for COVID.

Storytelling + Visual Art – Stories through comic strip
19th August 2021 (Thursday)

12 pm to 1 pm

Session 5: Super Young Warrior

Students will understand ways to provide support within their communities to help fight the COVID-19 pandemic.

Drawings of Young Warrior Mascot.
 Link to Join Young Warrior Movement Webinar
The sessions are expected to make the students aware of the correct protocols, information to ensure proper handling of COVID, vaccine hesitancy, mental health, etc. Through expressive activities of poetry, theatre & other art forms, students will inspire positive (+ve) change and action in their communities.
These will be in line with five Virtual Tasks-1 around COVID-19 in which students are engaging in and earning certificates jointly issued by CBSE, UNICEF & YuWaah. The sessions will be supported by UNICEF through an online teacher training workshop and co-facilitation support for student sessions.
Contact for any Query and Feedback
Please note that these workshops are open to all teachers and students of CBSE affiliated schools and you can broadcast session details within your school. For more queries and feedback:
Contact: youngwarriors.cbse[AT]gmail .com
Suggested Article for Teachers
I hope you like this article about CBSE Young Warrior Movement for teachers. Comment below for any query related to the young warrior movement.