Teacher Training Program on Entrepreneurship Teaching 2021
Teacher Training Program on Entrepreneurship teaching in association with Entrepreneurship Development Institute of India (EDII)
Entrepreneurship plays an important role in the growth of the economy and the overall development of the country. It has emerged as an important career option for students in the present scenario.
Thus, there is a need to sensitize the students so that they can learn and understand the basic ideas & concepts of entrepreneurship.
In this regard, CBSE (Central Board of Secondary Education) in collaboration with the Entrepreneurship Development Institute of India (EDII), Ahmadabad has planned to organize 6 days online training program for teachers as per the following details: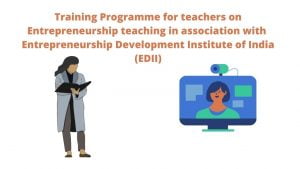 Details of Training Programme for Teachers on Entrepreneurship teaching
This program will run from 16 August 2021 to 21 August 2021.  If you wish to register for this training program, please click on the Registration Link. After clicking on this registration link, a form will open. You have to fill that form. After filling the form, your registration will be completed.
Date: 16 August 2021 to 21 August 2021 (Monday to Saturday)
Session-Wise Scheduled for teacher training is as follows:
| | | |
| --- | --- | --- |
| Day/Time | 10:00 to 11:15 AM | 11:30 to 12: 45 PM |
| DAY 1 | All About Entrepreneurship | Entrepreneurial Competencies (Psychometric Testing) |
| DAY 2 | Creativity, Innovation, and Entrepreneurship | Idea Generation and Business Opportunity Identification |
| DAY 3 | Feasibility Studies and Bussiness Plan Preparation | Project Planning and Development |
| DAY 4 | Business Models | Entrepreneurial Finance |
| DAY 5 | Enterprise Marketing | Sustenance and Growth Strategies |
| DAY 6 | Procedure and formalities for enterprise formation | Institutional Support System for Enterprise Formation |
Important Key Point of Teacher Training Program on Entrepreneurship Teaching
There is no participation fee for attending this teacher training program.
Participants will be selected on a first-come-first-served basis.
The invitation link for the training program will be emailed to the selected candidates on the email id provided at the time of registration one day before the program.
After completion of the program, the participants will have to take an online test on 21st August 2021 (Timing: 1:30 PM-2.00 PM).
A certificate of successful completion of 'Training on Entrepreneurship Teaching' will be awarded to the participants who successfully complete the training program and secure a minimum of 50% marks in the online examination. This certificate will be issued jointly by EDII and CBSE.
Contact for any Query and Feedback
If you have any problem related to this teacher training program on Entrepreneurship teaching, then you can contact the department of skill education. you can also contact EDII.
Department of Skill Education, CBSE
skedu ap1[at]cbseshiksha .in
Faculty of EDII
Lalit[at]ediindia .org

([at] means @)
Suggested Articles for Teachers
I hope you like this article about Teacher Training Program on Entrepreneurship teaching. Comment below for any query related to the article.