Road to Tokyo 2020 Olympic Quiz Competition for Students
Olympics Quiz – 'Road to Tokyo 2020'
As you know that Tokyo Olympics 2020 is scheduled to be held from 23 July 2021 to 5 September 2021. With a view to extending our moral support to the Indian contingent, it has been decided to create awareness among the countrymen about the Olympics and Indian participation before the start of Olympics 2020.
In this regard, the Sports Authority of India and the Olympic Association of India have jointly planned a series of activities to engage people of all age groups in an interactive manner that includes an Olympic quiz named 'Road to Tokyo 2020' with awards for the lucky winners.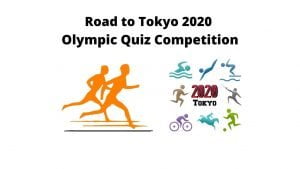 All the schools affiliated with the board should ensure that more and more children from their schools participate in this quiz and other activities to be made happy in the Olympics and get aware of India's sports culture.
Topic – 'Road to Tokyo 2020' Olympic Quiz
Date and Timing for Participation – Anytime Between 23rd June 2021 (05:00 A.M) to 22nd July 2021 (11:00 P.M)
Important Fact about Olympic Quiz
This is a multiple-choice online quiz conducted in English and Hindi.
The Olympic quiz will have 10 questions from multiple themes – History of Olympics, Sports & Disciplines, Past Achievements of Athletes, World Records, Current and Past Indian Athletes.
Only one attempt per person is allowed.
In the case of a tie (same scores), the fastest completed score will be considered.
Every day 10 lucky winners will be awarded Indian Team/Fan Jersey.
The lucky winner will get a chance to meet the Olympian.
Contact for Query and Feedback
Contact: contact.fitindia[AT]gmail .com
Other Suggested Article for Students, Teachers, and Principals
I hope you like this article about Road to Tokyo 2020 Olympic Quiz Competition. Comment below for any suggestions and Queries related to the quiz competition.