Comprehensive Result Tabulation Portal for Class 12: CBSE Latest Updates
In order to facilitate schools in implementing policy for Tabulation of Marks/Grades for Class 12 Board Examination 2021, a portal has been developed by the IT Department of CBSE Board in a very short period of time & implemented from 21 June 2021. This portal has the following sections:
Internal Grades Upload
Practical/Project/Internal Assessment Marks Upload
Class XII data verification for class X Roll Number, Board, & Year of passing
Availability of historical display of schools to be taken as reference for moderation
Class 11 theory marks data entry & upload
Class 12 theory marks data entry & upload
Class 12 complete tabulation sheet for checking, moderation of theory marks (11 & 12) & upload
A sequence of the above activities is also being prepared and activated on the portal from today, while the rest will be activated in due course of time to make it easier for the schools. This latest IT initiative to provide logistical support to schools has been widely welcomed and appreciated by the schools.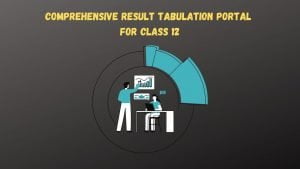 "A system has also been developed to calculate the class X component of marks on the basis of result data available with the board in case of students who have passed class X from CBSE only. For other boards, CBSE will collect result data from the respective state boards for the purpose of computing the class X component (30%) of class XII marks with the help of regional offices. The system will also calculate the class XI component (30%) and class XII component (40%)" according to Dr. Antriksh Johri, Director IT, CBSE.
After the collection of all the marks, this portal will display the complete table sheet for the school with the feature of subject-wise marks and reference mean for the purpose of moderation of marks by the schools. This portal and backend system has reduced the burden of cumbersome calculations for the schools.
Other Suggested Article for teachers and Principals
Also Read-
I hope you like this article about Result Tabulation Portal for Class 12. Comment below for any suggestions.