CBSE Launches Online Entrepreneurship Program for Principals and Teachers 2021 
Orientation on "Online Entrepreneurship Program" for Principals & teachers in collaboration with Udhyam Learning Foundation.
Entrepreneurship plays an important role in building the economy and development of a nation. We often meet young people full of creative and innovative ideas. But very few of them are able to bring their ideas into reality. Therefore, there is a great need to develop and promote an entrepreneurial mindset among our students.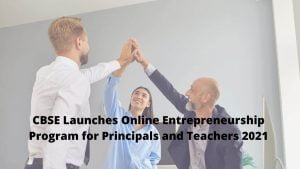 In this context, the Board in association with Udyam Learning Foundation is organizing an online awareness program (See Annexure-I) for the Principals and Teachers of the Schools affiliated with the Board as per the schedule given below. All concerned are requested to register on the link given below:-
If you want to participate in the program, you will need to fill out the registration form. You can fill the registration form by clicking this Registration Link provided by CBSE.
Topic
Online Entrepreneurship Programme for Teachers and Principals
Date
11 August 2021
Time
11:00 AM to 12:00 Noon
Contact for any Query and Feedback 
skedu_ap1[at]cbseshiksha.in

gauri[at]udhyam.org
Key Points of Online Entrepreneurship Program 2021
There is no participation fee for attending the Entrepreneurship Programme online.
The orientation program on Entrepreneurship is exclusively for the principals and teachers of CBSE-affiliated schools.
The link for participating in the orientation program will be e-mailed to the participants one day prior to the event on the e-mail ID provided at the time of registration.
In addition, the board is planning to conduct the training of teachers and students in the last week of August/September 2021. Details will be shared later.
Awareness Webinar for Principals & teachers of CBSE affiliated schools about the Online Entrepreneurship Programme 2021
Key features of the Online Entrepreneurship Webinar
Blended Learning
Students learn concepts through online sessions (or online webinars) and then carry on with real-life business projects based on them to build deeper understanding. It allows students to learn independently in addition to facilitator support.
Real-Life Learning
Students not only understand business and entrepreneurship theoretically but actually formulate a business idea of their interest, engage with real customers, conduct surveys, put concepts into practice.
Reflective Learning
Students learn reflective learning from reflecting on their personal experience of starting their own business. Managing a business can be an intensely engaging experience that creates a solid foundation for learners to learn from and increase their self-awareness.
Implementation Model of the online Entrepreneurship Programme
This Entrepreneurship program consists of 3 phases:-
Training of Master Trainers by ULF
Teachers Training by Master Trainers
Training of students by Teacher
Objectives of the online Entrepreneurship Webinar
Understanding the Concept of Entrepreneurship and OEP Program Design.
Practice facilitation techniques.
Time duration of CBSE Online Entrepreneurship Course
10 hours of formal training consisting of 1 hour of online induction and 9 hours of online training (3 hours per day for 3 days). Trained Facilitators / Master Trainers will train the teachers. Trained teachers will provide further training to their students.
Click here to view the official Notification of Entrepreneurship Program
Suggested Articles for Teachers and Principals
I hope you like this article about CBSE Online Entrepreneurship Program 2021. Comment below for any query related to this program.