CBSE Launches Free Online Artificial Intelligence Teacher Training Program 2021
Online AI Training Program for All Subject Teachers under 'The Global Teachers Academy for Digital Technologies'
As mentioned in CBSE Notification No. 38/2021, "Global Teacher Academy for Digital Technologies" is an initiative by CBSE in association with IBM to promote digital technologies among teachers of CBSE-affiliated schools.
The initiative envisions to be recognized as a globally recognized academy to create technology consultants on 21st-century digital technologies at the K-12 school level, starting with Artificial Intelligence (AI).
After training two hundred computer science/AI/IT teachers from across CBSE schools as "AI Teacher Educators", the program is now being extended to ten thousand teachers from CBSE affiliated schools that will be trained as "AI Teacher Mentors" to guide students to build AI-based projects.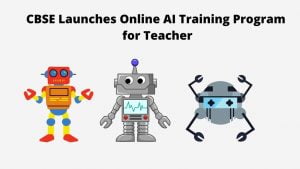 Teachers from all disciplines are invited to participate in the training to understand how AI can be used in different scenarios. No coding or programming language knowledge is required for this program.
The benefit of the AI Training Program for CBSE Teachers
As part of the training program, participating teachers will receive the following benefits:
3-hours of instructional training on Artificial Intelligence ideas and project mentoring using the IBM Project Guide.
Online certification course on AI Foundation for teachers from ISTE and IBM through IBM Skill Build Platform.
Top teachers will be considered for digital assignments like online mentoring, online training, lesson plan creation, innovation review, online assignments to build an AI student community. An honorarium for assignments may be considered.
The certificate will also be given after the successful completion of the program.
Important Link for Online AI Training Program for CBSE Teacher
Teachers can participate in the program by registering for 3 hours of instruction-based training using the link given below before 20 July 2021.
Topic = Online Training Program for AI Mentors Under "The Global Teachers Academy for Digital Technologies".
Dates = 24th July 2021 to 28th August 2021.
Registration link for teachers.
Important Key Point of online AI training Program
There is no fee for attending this online AI teacher Training Program.
The timing and link for attending the above training will be informed to the registered teachers on the email provided by them in the registration form.
The online training will be organized for teachers in batches on Saturdays.
Contact for any Query and Feedback
Department of Skill Education
rpsingh.cbse[AT]cbseshiksha .in
IBM Partner
globalteachersacademyai[AT]gmail.com

[ AT means @]
Suggested Article for Teacher
I hope you like this article about the CBSE online AI training program for teachers. Comment below for any query related to this online program.