NISHTHA Teacher Training Module 2021 for All Secondary Teachers
Training of all Secondary Level Teachers in NISHTHA Modules – Continuous opportunities to teachers for self-improvement and to learn the latest innovations and advances in their professions via multiple modes are a focus area as per New Education Policy 2020.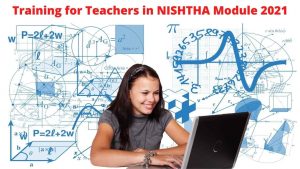 In this context, the National Initiative for School Heads' and Teachers' Holistic Advancement (NISHTHA), a holistic program under Samagra Shiksha and a flagship program of the Ministry of Education, Government of India, was launched in the year 2020. The courses launched under the NISHTHA Module program are centered around learning outcomes and learner-centered pedagogy.
The objective of Teacher Training in the NISHTHA Module
Teachers are trained to use art as pedagogy thereby increasing creativity and innovation in students and developing and strengthening personal-social qualities for holistic development of students.
Formation of a healthy & safe school environment.
Unification of ICT in Teaching, Learning & Assessment.
To develop stress-free school-based assessments with a focus on the development of learning ability.
Teachers adopt Activity-Based Learning & move away from rote learning to competency-based learning.
Teachers and school heads should be made aware of new initiatives in school education.
Change in providing academic and administrative leadership to heads of schools to promote new initiatives.
Improving students' learning outcomes.
Creation of an enabling and richly inclusive classroom environment.
Teachers become alert and responsive to the social, emotional, and psychological needs of the students as first-level counselors.
Nishtha courses have been adapted in online mode and NCERT is conducting these courses for secondary level (Class 9th to 12th) all over the country through the Diksha portal.
Also Read: Online Course on AI for All By CBSE and Intel India 2021
How to access NISHTHA teacher training courses on DIKSHA APP?
The courses are available in English and Hindi medium and teachers can access the courses on Diksha Portal by following the steps given below:
Step I: Download DIKSHA APP on your Android Smartphone through Google Play Store or Click here to download DIKSHA APP.
Step II: Sign in using an existing Diksha account in DIKSHA APP or Sign in through Google OR Register yourself using any email id/phone number.
Step III: Click on the following link to access the Courses on DIKSHA Mobile Application.
Step IV: Click on this link to download the official notification. The link of all the courses is given in this NISHTHA Teacher Training Module Official Notification.
Certificate of Nishtha Teachers Training Module 2021
The certificate will be generated within 7 to 10 working days if the course is 100% completed and a minimum of 70% marks have been obtained in the course evaluation.
It may take up to 24 hours to reflect actual course progress.
A maximum of 3 attempts will be allowed to score 70% in the course end assessment. Participants must obtain a minimum of 70% to receive the certificate.
The name in the certificate will be the same as it appears in your user profile on DIKSHA.
The school principals are requested to facilitate the completion of these courses by all the secondary level (classes 9-12th) teachers of the schools as per the timetable schedule shared by NCERT.
The course links for the teachers of NV and KVs will be shared by their respective organizations. Links for subsequent courses will be notified by separate notification.
  Email: nishtha.support[at]cbseshiksha.in
Also Read: CBSE Free Online Training Session for Teacher 2022
I hope you like this article about the Training of all Secondary Level Teachers in NISHTHA Modules 2021. Comment below for any query related to this article.
Click Here for More Educational News