National Online Yoga Quiz Competition 2021 for Students of class 6 to 12
 National Online yoga quiz competition is being organized during the Coronavirus pandemic to encourage students to participate and create an overall positive environment. The yoga quiz competition 2021 items are designed to make children aware of the importance of yoga in maintaining, health, wellness, and harmony. Yoga is one of the most powerful drugless systems and an effective preventive measure to deal with all kinds of physical and mental ailments.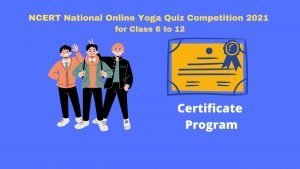 By participating in the quiz students will learn to appreciate that yoga is an integral part of our cultural heritage and was practiced by our ancient sages and seers for physical fitness, mental alertness, and emotional balance. The various asanas and postures in yoga represent a close relationship with our environment and our rich biodiversity. Performing and practicing yoga will create an urge in everyone's mind to lead a healthy lifestyle as the hallmark of happiness and fun.
The present online Yoga Quiz Competition 2021 is designed to create awareness and understanding of Yoga among students, to strengthen human values, and to help all, maintain cheerful and healthy dispositions.
The objective of Yoga Quiz Competition 2021
The objectives are to:
Creating awareness and motivating children about yoga practices
collect additional materials on yoga
To develop an understanding of the benefits of various asanas and as a preventive measure in curing various physical and mental ailments
To motivate students to practice asanas regularly for overall health and wellness
Instil human values
Participants
The quiz is for students from class 6 to 12 of all types of school and management: government schools, government-aided, schools affiliated to CBSE, private schools affiliated to KVS, NVS, CISCE, RIE's DMS, other boards.
Key Feature of Yoga Quiz Competition 2021
| | |
| --- | --- |
| Competition Name | National Online Yoga Quiz Competition 2021 |
| Language  | English and Hindi |
| Awards | The top 100 children from classes 6 to 8 and 100 children from classes 9 to 12 will get merit certificates. |
| Who can participate | Class 6 to 12 Students |
| Date and Time | The quiz will be open for a month starting from 21st June and will end at midnight on 20th July. |
Guidelines about National Online Yoga Quiz Competition 2021
Each question in the quiz will be in multiple-choice format with only one correct answer.
Each Quiz item carries 1. Mark students are required to attempt as many questions in 20 minutes.
The quiz questions are prepared both in Hindi and in English. You have to choose a medium to answer.
You are allowed to attempt the quiz only once and only one option will be accepted for a question. However, you can make revisions before the final submission within a period of 20 minutes.
After responding to a question, Press on the "Next Question", button to go to the next question
No negative marking for the question
After attempting the questions, one should click on the final submission. There can be no change after doing the final submission.
In order to log in to the quiz, the participants need to register on the DIKSHA portal to participate in the quiz. Please provide information like your name, class, date of birth, gender, mobile number, name of your school, parent/guardian.
For learners with visual impairment, there is a text to speech option in English and Hindi
Answer key will be published after the closure of the Yoga Quiz.
Time and Date
The quiz will be open for a month starting from 21st June and will end at midnight on 20th July.
How to participate in a yoga quiz competition 2021?
Those who want to participate in the Yoga Quiz Competition 2021, can follow the steps given below.
Step I: Go to the Yoga Quiz Competition official website or Click here for Quiz Competition Test.
Step II: After clicking on the above link you will come to MyGov Quiz Page. On that page, you will see a lot of quizzes.
Step III: You have to select the Yoga Quiz Competition from all those quizzes.
Step IV: Click on the "Play Quiz" Button. After clicking the Play Quiz button, your one will start.
Click here to view the official notification of the NCERT National Online Yoga Quiz Competition 2021
I hope you like this information about the National Online Yoga Quiz Competition 2021 for students of classes 6, 7, 8, 9, 10, 11, 12. Comment below for any query related to the quiz. Share this article with your friends.