Hello Everyone, Welcome To CBSE Digital Education. Today We Are Going To Discuss A Interesting Topic About National Online Art Competition 2021.
CBSE Digital Education provides all important information regarding National Online Art Competition 2021. Read this complete article till the end.
Kalantar National Online Art Competition 2021
National Mission for Clean Ganga, Ministry of Jal Shakti in association with Kalantar Kala Trust is organizing a National Online Competition in the form of an annual art festival. The competition has been launched on October 2, 2021.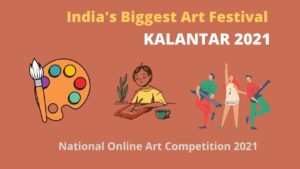 This festival will last for three months. The festival encompasses Namami Gange Themes-Dolphin or Bio-Diversity of Ganga or Role of Youth in River Rejuvenation and Livelihood around Ganga as amongst various other themes of the national online art competition.
Aim of National Art Competition
The aim of these art competitions is to provide a platform for the youth and school children to showcase their artistic skills.
The aim of these art competitions is to help people revisit the art, culture, and history of India and to connect them with importance and independence through the underlined theme of the Azadi Ka Amrit Mahotsav of various competitions during the festival.
List of National Art Competitions
Painting
Writing
Music and Song Composition
Play and Nukkad Natak
School Heads are requested to spread the above information amongst all the students to ensure maximum participation in this online art festival. The winners of the competition will be awarded attractive prizes and the schools with maximum participation will also be given due recognition.
National Online Art Event Details
Submission of the entry is completely online through the official website of Kalantarart.
Participants must read instructions, terms & conditions before participating in Kalantar-2021.
Vision Behind the Event
The event is completely free and has no participation charges for this art festival 2021.
Kalantar wants to bring artists on every part of the community to a parallel platform.
Full details are attached as an annexure and entry to the contest is free. Click here to download the Official Notification or Annexure of National Art Competition 2021. All important information is given in this official notification. Read this official notification for complete details.
Kalantar 2021 Annual Online Art Festival
Our life begins as a white canvas. It gets the background color from our family. Our surroundings act like different colors. Our task is to paint the brush with which we give strokes to color your life into a beautiful painting.
KALANTAR 2021 Art Festival is an opportunity for every artist, writer, singer, actor to exert an everlasting stroke of impressive performance and become a champion in their field of art.
About Kalantar Art Trust
Kalantar Art Trust is a non-profit organization that works for the upliftment of arts and artists. The organization tries to achieve this by organizing various online arts events like art camps, art competitions, charity shows, exhibitions, etc.
It was started under the visionary leadership of Mr. Vishal Srivastava in April 2013 with the setting up of a small room in Noida. The mission began to take shape with only a few children from the nearby slums and today Kalantar is a well-known name in the field of art appreciation. Today it runs various art centers on its own as well as government schools.
In the last 8 years, Kalantar has, directly and indirectly, influenced the lives of more than 5000 artists. Many students who took free art education in Kalantar have become professional artists earning well through art.
Suggested Article –
I hope you like this article about the National Online Art Competition 2021. If you want to ask any queries regarding the National online Art Competition 2021 then message us in the comment section, and we will reply to you soon.
  Click here for More CBSE News