Hello Everyone, Welcome To CBSE Digital Education. Today We Are Going To Discuss A Interesting Topic About the CBSE Free online Teacher Training Program on Holistic Assessment.
CBSE Digital Education provides all important information regarding the Free online Training Program for Teachers on Holistic Assessment. Read this complete article till the end.
CBSE Free online Teacher training program on Holistic Assessment in collaboration with Google
Assessment is an ongoing process of understanding each student's growth, development, and progress in relation to their individual learning goals; To assess personal strengths and challenges; To analyze & evaluate the effectiveness of learning methods & learning environment.
It should always be seen as an integral part of the learning process and should involve both the facilitator and the learner. Learners should be given opportunities to reflect on their learning and provide constructive feedback to peers.
Keeping in view, the above objectives a series of webinars are being organized by the Central Board of Secondary Education. The theme of these sessions will be to define the learning goals and assessment in detail on the topics of learning objectives and differences between them.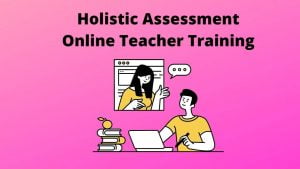 Strategies for the participation of students in defining learning objectives will then be discussed. Guidelines for creating rubrics to achieve the goal of authentic assessment and strategies for self and peer assessment for constructive feedback will also be discussed in detail. A roadmap for using reflection as an assessment tool will also be explored.
Schedule of  Free Online Holistic Assessment Training Program
Date 
Time
Title and Live Stream Link
22 October 2021
3:00 pm to 5:00 pm
Defining the Goals for Learning, Keeping the End in Mind
(Live Stream on "CBSE Academics & Trainings" Youtube Channel)
26 October 2021
3:00 pm to 5:00 pm
Planning to Assess the Learning

(Live Stream on "CBSE Academics & Trainings" Youtube Channel)

29 October 2021
3:00 pm to 5:00 pm
Assessment Strategies

(Live Stream on "CBSE Academics & Trainings" Youtube Channel)

1 November 2021
3:00 pm to 5:00 pm
Reflection as an Assessment Tool

(Live Stream on "CBSE Academics & Trainings" Youtube Channel)
Key Feature of Holistic Assessment Teacher Training Program
Join the webinar by clicking on the relevant link given in the table above. No registration is required for this online training.
Course materials and assessments will be available in the respective Google Classrooms.
Link of Classroom will be available on the Holistic Assessment Official Website.
The link to classrooms on the above domain will be changed when a cohort is filled.
Participants are advised to join only one Cohort & use the current link available at the time of joining.
Participants can join the classroom & assessment by using their @cbsedigitaledu .in ID only.
The board has shared the cbsedigitaledu ID of the teachers with the schools through the CBSE Center of Excellence. Teachers who have not got the cbsedigitaledu ID can contact the respective Center of Excellence through their school. Individual requests will not be considered.
E-certificates will be provided to the participants on the successful completion of the assessment.
Assessment links in respective classrooms will be available for participants from 1 November 2021 at 5.00 PM.
The candidates are advised to fill the assessment form with utmost care. A participant can submit an assessment of this program only once.
The spelling of the name and email id should be double-checked while submitting the assessment form. Any mistake will be visible on the certificate.
Participants can download their certificates from CBSE Training Portal from 30th November 2021.
Course material & medium of assessment will be English only.
Contact for any Query and Feedback
In order to get optimum benefits, the Principals and teachers of all the schools affiliated with the Board are requested to attend the course as per the schedule.
Email: support[at]cbsedigitaledu.in
I hope you like this article about the CBSE Free online Teacher Training Program on Holistic Assessment. If you want to ask any queries regarding the Free online Teacher Training Program on Holistic Assessmentthen message us in the comment section, and we will reply to you soon.
  Click here for More Educational News