Hello, Welcome To CBSE Digital Education. Today We Are Going To Discuss A Interesting Topic About Ek Bharat Shrestha Bharat Activities in Schools.
After reading this article about Ek Bharat Shrestha Bharat Activities in Schools, you will be able to answer all important questions related to it. CBSE Digital Education provides all important information regarding the Ek Bharat Shrestha Bharat Activities in schools 2021.
About Ek Bharat Shrestha Bharat Activities in Schools
As you are aware that the idea of a continuous and structured cultural engagement between the people of different regions was mooted by the Hon'ble Prime Minister of India during Rashtriya Ekta Diwas (31st October 2015) on the occasion of the birth anniversary of Sardar Vallabhbhai Patel to celebrate cultural diversity through interaction and reciprocity among the people of different States and Union Territories.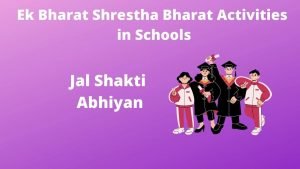 Towards achieving this, each state and union territory of the country has been associated with another state and union territory for one year, during which they interact with each other in the field of language, literature, cuisine, festivals, cultural events, tourism, etc.
Matrix of Paired States/Union Territories
The canvas of Ek Bharat Shreshtha Bharat (EBSB) covers all the states and union territories of India. The matrix of paired states and union territories is given in Annexure A.
Report of Activities of Ek Bharat Shrestha Bharat Activities in Schools
Schools are required to maintain a report of the activities conducted under 'Ek Bharat Shreshtha Bharat'.
A monthly report along with at least two photos and 1 short video of each activity should be submitted online at this link by the school in the last week of every month.
School Heads are requested to ensure maximum participation of all stakeholders in various activities under Ek Bharat Shreshtha Bharat and accordingly prepare an action plan to make the program successful and effective. Please submit the Annual Action Plan on or before 20th October 2021 as per the format given on this Link.
These activities will not only enhance the knowledge of the partner state but also develop a sense of connection among the students of the participating state/UT. These activities will go a long way in developing our students into responsible citizens with a deep belief in the unity in diversity of the country.
Action to be Taken by Schools in Ek Bharat Shrestha Bharat
Organize at least 3-4 different activities in a year by integrating into the regular activities of the school as suggested in Annexure B under the 'Ek Bharat Shreshtha Bharat' program during the year.
To prepare an annual action plan for effective implementation of the program. Be sure to include EBSB activities in the school's annual academic calendar, linking each activity to life skills/learning skills/media skills.
Keeping in view the academic calendar, these activities should be organized in coordination with the partner State/UT.
Ensure appointment of nodal teacher in charge in the school for planning and conducting various EBSB activities.
Establish an EBSB club in the school.
Combine the activities to be organized under Jal Shakti Abhiyan: Catch the Rain campaign with the tagline 'Catch the Rain, Where it Falls' with EBSB. Suggested activities are given in Annexure C.
Give adequate publicity to the activities conducted under EBSB and reach out to the larger community in new and effective ways.
Upload photos, tweets, reports, etc. of activities done on social media with hashtags (#cbseebsb).
Give incentive or recognition to the students for their good performance in EBSB activities in the form of certificates, badges, appreciation letters, etc.
The school reopening guidelines of the Ministry of Health and Family Welfare, Ministry of Home Affairs, and Ministry of Education should be strictly followed while conducting activities under Ek Bharat Shreshtha Bharat keeping in view the safety of students during the Coronavirus (COVID-19) pandemic. The measures to be taken by the schools during this period are given in Annexure D.
Activities to be undertaken in accordance with NEP 2020
Every student in the country will participate in an entertaining project/activity on 'Languages of India' sometimes in classes 6-8, such as under the 'Ek Bharat Shreshtha Bharat' initiative.
In this project or activity, students will learn about the remarkable unity of most of the major Indian languages, beginning with their common phonetic and scientifically arranged alphabets and scripts, their common grammatical structures, their origins, and the sources of vocabularies from Sanskrit and other classical languages, as well as their rich inter-effects and differences.
They will also learn what languages the geographic region speaks, gain an understanding of the nature and structure of tribal languages, and learn to speak phrases and sentences commonly spoken in every major language of India, and learn how to use rich and uplifting literature of each (through suitable translations as required).
Such activity will give them a sense of both the unity and beautiful cultural heritage and diversity of India and will be a wonderful icebreaker throughout their lives while meeting people from other parts of India.
This project/activity will be an enjoyable activity and will not involve evaluation of any kind.
 Contact: dsacad.cbse[at]gmail.com.
If you want to know about Annexure A, Annexure B, Annexure C, and Annexure D then download the official notification given below. Complete details about Annexure have been given in this official Notification.
Click here to view the Official Notification about Ek Bharat Shrestha Bharat Activity
Suggested Articles
I hope you like this article about the Ek Bharat Shrestha Bharat Activities in Schools. If you want to ask any queries regarding the Ek Bharat Shrestha Bharat Activities in schools 2021, then message us in the comment section, and we will reply to you soon.
  Click here for More Educational News