SkillCon: Educators Conclave on Promoting Skilling in Schools Organized by CBSE and Goethe – Institut / Max Mueller Bhavan
The New Education Policy 2020 has laid great emphasis on developing vocational skills in the students by integrating skill-oriented elements in the curriculum at the initial stage. The policy envisages acquainting the students with the professional skills and future academic career of the students opting for skill courses during their school days. Apprenticeship avenues will also have to be developed for these students.
However, the new responsibility has become a challenge for many schools. To help schools address this challenge and offer practical solutions that are both industry-relevant as well as help expand the scope of students' professional ideas, CBSE Goethe-Institute/Max Mueller Bhavan will be organizing a "Skillcon" – Teachers' Conference on Promotion of Skills in School" on 8th July 2021.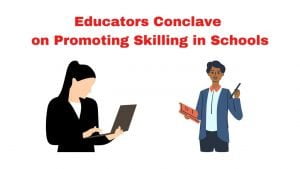 Representatives from Indo German chamber of commerce (IGCC), German Industry, Goethe Institute/Max Mueller Bhavan, and CBSE will address the participants on the topic and also about the various collaborative efforts that CBSE is planning to undertake with Goethe-Institute/Max Mueller Bhavan for promoting skill education in schools.
Important Point
There is no fee for attending this conclave.
As limited seats are available, so the selection of participants shall be on a first-come-first-served basis.
The invitation link for the online webinar will be emailed to the selected Principals/Vice-principals one day prior to the program on the email id provided at the time of registration.
The live streaming of the Educators' Conclave shall also be available on the "CBSE Academic and Training" YouTube channel.
Important Link and Fact
Principals/Vice-Principals of all CBSE affiliated Schools must attend these Educators Conclave:
Date and Timing = 8th July 2021, Thursday (3:00 pm to 4:30 pm)
Please use the cbseshiksha.in email id for registration.
Contact for Queries and Feedback
 Contact: cbse[AT]cbseshiksha .in (AT means @)
Other Suggested Article for Students, Teachers, and Principals
I hope you like this article about Educators Conclave on Promoting Skilling in Schools. Comment below for any suggestions related to the article.