CTET December 2022 Answer Key Challenge: All the applicants appearing in the 16th edition of the Central Teacher Eligibility Test (CTET) which was conducted in Computer Based (Online) mode on various dates from 28 December 2022 to 07 February 2023 are hereby informed that the CTET Answer Key has been uploaded on the official CTET website at https://ctet.nic.in.
The CTET exam attempted question papers of the candidates are available in their log-in. The applicants who are not satisfied with the answer key can submit their challenge by the following procedure.
If the applicants are not satisfied with any of the CTET Answer Keys, they must click on the challenge link of the submit key. Select the question they want to challenge through the dropdown and click on Select for Challenge, select the answer option which you think is correct.
In case, applicants feel that more than one option is correct, they have to select such desired options. If candidates have selected the wrong answer option for the challenge, click to update your answer. If candidates want to challenge more answer keys then follow the same procedure.
The challenge of the answer key is online only will be accepted from 14 February 2023, latest by 17 February 2023 (up to 12.00 noon) through the link available on the CTET website. Challenges submitted through any other medium i.e. email/post or in person will not be accepted.
A fixed fee of Rs. 1000/- per question challenged will be required to be deposited through a Credit/Debit card by 17 February 2023 (by 12.00 noon). Their funds (if any) will be transferred online to the respective credit/debit card account, therefore, candidates are advised to make the payment through their credit/debit cards.
The challenges to be received will be verified by the concerned subject matter expert. If the challenge of the answer key is accepted by the board, ie. If any mistake is noticed by the subject matter expert(s) in the answer key, a policy decision will be notified on the website and the fee will be refunded.
Challenge CTET Answer Key: Direct Link
The decision of the subject matter expert(s) on the challenges will be final and no further communication will be entertained.
Official Notification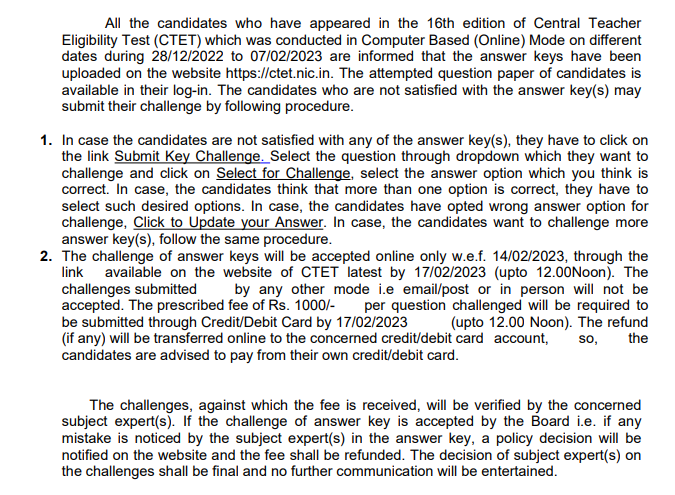 We hope that after reading this article you must have got detailed information about CTET December 2022 Answer Key Challenge. If you want to ask any queries regarding the CTET December 2022 Answer Key Challenge then message us in the comment section, and we will reply to you soon.