Hello, Welcome To CBSE Digital Education. Today We Are Going To Discuss A Interesting Topic About Cleanliness Drive for Swachh Bharat 2021. CBSE Digital Education provides all important information regarding the Cleanliness drive for Swachh Bharat Abhiyan.
Cleanliness Drive for Swachh Bharat 2021 –Swachhata Pakhwada (1st to 15th September 2021)
Recognizing the important role of schools in spreading awareness about the Swachhata Mission and its implementation across the country, schools are advised to observe Swachhta Pakhwada from 1st to 15th September 2021 by organizing the following participatory activities: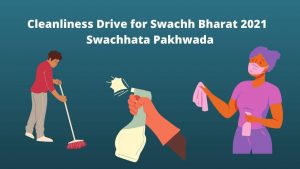 Swachhata Pakhwada Activity Details
| | | |
| --- | --- | --- |
| S.NO. | Activity Name | Dates |
| 1. | Swachhata Shapath Day | 1 September 2021 |
| 2. | Swachhata Awareness Day | 2 September 2021 |
| 3. | Community Outreach Day | 3 September 2021 |
| 4. | Green School Drive Days | 4 September 2021 to 5 September 2021 |
| 5. | Swachhata Participation Days | 6 September 2021 to 7 September 2021 |
| 6. | Hand Wash Day | 8 September 2021 |
| 7. | Personal Hygiene Days | 9 September 2021 to 10 September 2021 |
| 8. | Swachhata School Exhibition Days | 11 September 2021 to 12 September 2021 |
| 9. | Swachhata Action Plan Days | 13 September 2021 to 14 September 2021 |
| 10. | Prize Distribution Day | 15 September 2021 |
The complete suggestive action plan for the activities is enclosed
Due to the COVID-19 pandemic, Swachhta Pakhwada 2021 activities can be focused on three key precautionary practices:
Hand-washing with soap
Use of Mask
Social Distancing and 3 Ts (Trace, Testing and Treat)
In order to observe the Swachhta Pakhwada in a proper manner, the schools are advised to undertake the following suggested activities, physically or virtually, as the case may be, strictly keeping in view the COVID-19 (Coronavirus) protocol laid down by the Government:
Cleanliness Pledge can be organized in all schools and educational institutions (with social distancing in virtual mode/physical mode).
Organize SMC/SMDC/PTA meetings (in small groups/virtually) in the first week of the fortnight to highlight the importance of cleanliness and hygiene and hand washing, use of masks, and social distancing; And encourage and motivate them to continue good practices for hygiene and sanitation in school as well as at home.
Teachers inspect water and sanitation facilities in the school, do a quick assessment of the Sanitation Action Plan (SAP), O&M of water, sanitation, and hygiene facilities (in view of the COVID-19 requirement) for the current situation and plan. Repair and maintenance of facilities if necessary.
Competitions for COVID safe, clean, and tidy campuses and toilets in schools.
Painting or essay or quiz or slogan writing or model-making competition for students on cleanliness and hygiene practices in school and COVID-19 responsive behavior in virtual mode.
Cleanliness awareness messages will be put up on the website of the school. Alternatively, photographs on Swachhata can be displayed in schools.
If they have not done so yet, all teachers and school heads can complete the online training module provided on DIKSHA in English and DIKSHA in Hindi on precautions related to WASH for school reopening.
Following activities can also be undertaken by the teachers and administration of the schools while following the COVID-19 preventive measures like using masks, protective gear, etc.
E-office and e-filing systems can be encouraged and followed.
All types of waste material like sanitary waste, used and disposed of masks, broken furniture, unused equipment, defective vehicles, etc should be completely removed from the school premises and disposed of as per the procedure.
Prohibition on the use of single-use plastic in school premises.
Teachers and students should publicize the theme of the Pakhwada among family members, neighbors, nearby citizens in collaboration with local representatives (or safely in one-to-one contact with precautions).
Awareness about stopping the use of single-use plastics and following the 3 R's (Reduce, Reuse and Recycle) principles.
Daily cleaning & disinfection of frequently used surfaces.
Further, to give impetus to the cleanliness drive and to create public awareness, it is requested that the following activities may be undertaken:
Audio-visual program/IEC material will be prepared to motivate the students and others towards cleanliness and water conservation. The IEC material shared by MoE for Corona Responsive Behavior (CRB) on November 6, 2020, may be displayed on school walls and suitable sites/websites for the visibility of teachers and students.
Electronic banners to highlight the observance of the Pakhwada may be created and uploaded on the web portal of the school. Publicity and awareness can be created through the use of social media as well as electronic and print media.
School Heads are requested to ensure maximum participation of all stakeholders in the Swachhta Pakhwada campaign from 1st to 15th September 2021 and accordingly prepare an action plan to make the event successful and effective.
The activities conducted by the schools during the Swachhta Pakhwada will enable the schools to take this mission of cleanliness to the community thereby creating public awareness.
A report of the activities conducted by the school will be submitted on this form link on or before 18 September 2021. Also, upload photos, videos, movies, etc. to Google Drive every day during the Pakhwada with highlights of each day of the Pakhwada.
Click Here to view the official Notification of Cleanliness Drive Swachh Bharat 2021
Suggested Article –
I hope you like this article about Cleanliness Drive for Swachh Bharat 2021. If you want to ask any queries regarding the Cleanliness Drive for Swachh Bharat 2021, then message us in the comment section, and we will reply to you soon. Share this article "Cleanliness Drive for Swachh Bharat 2021" with school teachers and students.
  Click here for More Educational News