Launching of Online Teacher Training Course on Multi Skill Foundation Course
The New National Education Policy (NEP) 2020 emphasizes the need for a shift from rote learning to competency-based learning to ensure learning proficiency by students in dealing with real-life situations. Multi Skill Foundation Course (MSFC) allows the weaving of skill education with mainstream subjects & encourages learning with real-life experimentation.
Multi Skill Foundation Course (MSFC) was approved as one of the job roles by the Ministry of Human Resource Development (MHRD) in 2018. After that, the course was adopted by CBSE as one of the skill subjects at the secondary level.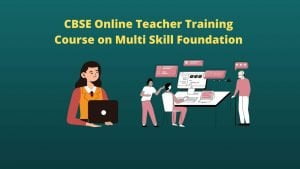 In order to promote Multi Skill Foundation Course (MSFC) and provide training to teachers, CBSE in association with the Lend-A-Hand organization has developed an online teacher teaching and assessment module on the basics of the 'Multi Skill Foundation Course' for teachers.
This course will be available from 29 June 2021 to 8 July 2021 and can be accessed using the link (mentioned in the attachment). This curriculum has been developed with the aim of making and making learning multi-sensory, joyful, reflective, and multidisciplinary. Registration is mandatory to participate in this course. Please register using the link given below.
Important Instructions about Multi Skill Foundation course 2021
Please follow the instructions given below before starting the course:
There are three parts of the basic level, Multi Skill Foundation Training Course, namely:
(a) Module 1 on Technical Section: Workshop and Engineering Techniques and Energy & Environment.
(b) Module 2 on Life Sciences Section: Gardening, Nursery, Agriculture techniques, and Food Processing Techniques.
(c) Module 3 on Employability Skills & Vocational Pedagogy
All three modules are compulsory.
For each module, an online orientation will be conducted for teachers to give them an overview of the material and how to access these course links.
After the orientation session, 48 hours will be given to complete the respective module and after that assessment will be done on that module.
Before starting, the participants need to register themselves on the link given below. Without registration, participants will not have access to orientation sessions, training links, or assessments. The registration link will be open till 27th June 2021.
The email id & mobile number used for registration will have to be used for training and assessments, otherwise, the assessment results will not be valid.
For each module, assessment links are shared, the assessment link will be open for 12 hours as per the schedule (in the table) below.
You can make an assessment only once using the registered email id; Minimum 50 percent marks are required to pass in all three modules.
The assessment will be based on the content covered in the training module.
Important Step for CBSE Online Teacher Training Course on Multi Skill Foundation 
Steps to be followed:
Register yourself for the training using the given registration link.
Attend online orientation sessions for each module.
Complete the online course for that module within 48 hours using the given links for each module.
After completing the module, take an assessment of that module within 12 hours using the assessment link provided below.
Attend an orientation for the next module and continue in the same way until the evaluation of Module 3 using the link below.
Attend the program orientation session at the end by using the link given below.
Important Link of Multi Skill Foundation Course for Teachers
(Zoom Meeting ID = 958 3753 9251 and Password = CBSE)
S.NO.
Activity
Time
Details
1.
Registration form for online course of multi Skill Foundation Course

Till Sunday

20 June 2021

Registration Form Link is given above
2.
Introduction and Orientation of Multi Skill Foundation Course (Video Conference
 Zoom Meeting Link is given above

Zoom Meeting ID = 958 3753 9251

Password = CBSE
| | |
| --- | --- |
|  Zoom link for attending all three Module (Module 1, Module 2, Module 3) | Zoom link is given above for Module 1, 2, 3) |
| Contact for any Query  | dscoe. skill[AT]gmail .com |
Other Suggested Article for teachers and Principals
Also Read-
I hope you like this post about Online Teacher Training Course on Multi Skill Foundation. Comment below for any suggestions.