CBSE Class 9 Hindi Syllabus 2021-22 PDF 
Central Board of Secondary Education has released a new class 9 Hindi A syllabus for the current academic session 2021-2022. We are providing here to download Hindi A Syllabus for CBSE Class 9 for Academic Session 2021-2022 in PDF format.
The board has removed some chapters from the syllabus. All the periodic tests and year-end exams for class 9 Hindi A will be conducted as per this new syllabus. Therefore, students should analyze this complete syllabus and prepare their exams accordingly. Check below the complete syllabus to know the entire syllabus structure and important instructions to improve your learning skills.
CBSE Class 9 Hindi A  Syllabus 2021-22 PDF
CBSE Class 9 Hindi Syllabus Removed Portion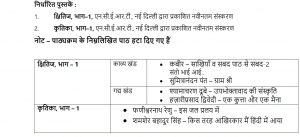 By coming to the secondary level, the student has become a teenager and with listening, speaking, reading, writing, a critical vision develops. Familiar with aesthetic aspects of language, narrative, news comprehensive, understanding of world powers, development of political and social consciousness, reference to one's own identity and appropriate language as need, proper use of words, systematic nature of language, etc it happens.
Not only this, but he is also familiar with various genres and many styles of expression. Now the student's vision spreads to the global horizon, crossing the border of the neighborhood, state, and country.
News, sports, film, and other arts have also entered the world of these children, along with letters, magazines, and different books.
At this stage, the study of the mother tongue Hindi as a literary, cultural, and practical language should be done in such a way that it can become the language of recognition, confidence, and discussion of the students by reaching the higher secondary level.
Efforts will also be made to enable the student to be comfortable with the written use of the language as well as in spontaneous and natural oral expression.
I hope you like this article " CBSE Class 9 Hindi Syllabus 2021-22″.