Hello, Welcome To CBSE Digital Education. Today We Are Going To Discuss A Interesting Topic About ATL Space Challenge 2021 In this article, we discuss all the important information regarding ATL Space Challenge 2021.
ATL Space Challenge 2021 for Class 6 to 12 Students
The year 2021 has seen great achievements in the space sector for the entire human race. We are at the zenith of the digital age, and 'Space Technology and Exploration' is an important focus area that students should explore at an early age to become the innovators and entrepreneurs of tomorrow.
We are also celebrating 75 years of India's independence, this year as "Azadi Ka Amrit Mahotsav", an initiative of the Government of India to celebrate & commemorate 75 years of progressive India and the glorious history of its people, culture, and achievements.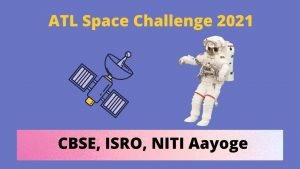 Atal Innovation Mission, National Institution for Transforming India (NITI) Aayog in collaboration with the ISRO (Indian Space Research Organization) and CBSE (Central Board of Secondary Education) is launching ATL Space Challenge 2021.
The ATL Space Challenge 2021 corresponds to World Space Week 2021, announced by the United Nations General Assembly, and is observed every year from 4th to 10th October internationally to celebrate the contribution of space science and technology.
The objective of ATL Space Challenge 2021
To enable young innovators from schools across the country to create new, efficient and innovative solutions to specific, real-world challenges in the space sector and to develop solutions that address key problem areas of the challenge.
Timelines of ATL Space Challenge 2021
ATL, ISRO, CBSE together launch ATL Space Challenge on 6 September 2021.
Select the challenge theme and identify the problem statements.
Attend the virtual mentoring and inspirational sessions (every Wednesday and Friday).
Explore ATL Modules and other technologies.
Create the prototypes.
Submit your entries.
Application submission closes on 30th September 2021.
Important Instructions for Students
Students (from ATL and non-ATL schools) can submit their entries to the ATL Space Challenge.
Solutions/innovations by student teams should be combined with a challenge theme under which problems can be identified. Create a solution that can be implemented and leverage techniques such as:
Explore Space
Gaming Technology: Develop Games that inform about space or planets.
App Development: Build an app to raise awareness of space and the outside world.
Robotics: Development of robotic system technologies to improve space exploration missions.
Reach Space
3D Technology: Build a 3D model (virtual or physical) for equipment, vehicles that can be used to reach space.
AI/ML in Spaces: Using Artificial Intelligence & Machine Learning capabilities in various areas of space operations and spacecraft maintenance.
Space Apps: Develop mobile apps to make living in space better/easier (eg: communication or navigation focused)
Inhabit Space
3D Technology: Solving space exploration problems and developing 3D model designs for 3D printed habitats that can be used in space.
Healthcare: The development of life support systems that enable extended human presence in space.
AI/ML Technologies: Build a virtual environment using AI/ML to simulate space to prepare humans.
Leverage Space
Geospatial Technology: Disaster management and disaster risk using analysis, modeling, simulation, and visualization of geospatial data resources and products (eg: Geographic Information Systems (GIS), Remote Sensing (RS), and Global Positioning Systems (GPS)) decrease).
Drone Technology: Solutions designed to enable remote monitoring and smart and connected rural and urban settlements.
Visualize Data: Develop a user-friendly application to discover, visualize and analyze satellite data to monitor Earth conditions (eg: weather, climate, etc.).
Application for space challenge will be submitted on AIM online portal (details will be notified later). Each team should select a problem that falls within one of the Space Challenge themes based on their interest and understanding.
Each unique solution should be presented under only one topic. Submission of the same solution/innovation under multiple subjects will result in immediate disqualification.
Students can take advantage of the ATL Space module can be accessed on the official website for a detailed understanding of key concepts. The ultimate innovation could be a physical/digital solution (app, game, 3D design, etc) developed using any ATL Module/platform (open to all) or any open source (or free platform).
The online application form submission will include:
Document submission (description of the innovation/ solution)
Video submission (capturing a 360-degree view of the working prototype or solution).
School teachers, ATL in-charges, and mentors can support student teams. Each team will consist of a maximum of 3 students of Classes 6 to 12 and one school teacher/ATL in charge. We encourage ATL schools to include other school and/or community students within the team structure as well.
Please note, individual member entry is not allowed. Also if the team size exceeds the limit of 3 members, the entry/submission will be disqualified immediately.
This Atl challenge 2021 is for Indian students currently enrolled in schools of Classes 6 to 12 (both from ATL and non-ATL schools), if your entry is selected as a finalist, the team members may be asked to provide proof in the form of a photo of your school i-card or any other form as deemed fit by AIM, NITI Aayog. Failure to do so may result in your entry being disqualified.
At the conclusion of the challenge, the top teams will be awarded interesting opportunities and prizes.
I hope you like this article about ATL Space Challenge 2021. If you want to ask any queries regarding the ATL Space Challenge 2021, then message us in the comment section, and we will reply to you soon.
  Click here for More Educational News